Trending:
How to leash train a cat: an easy way to make walking easier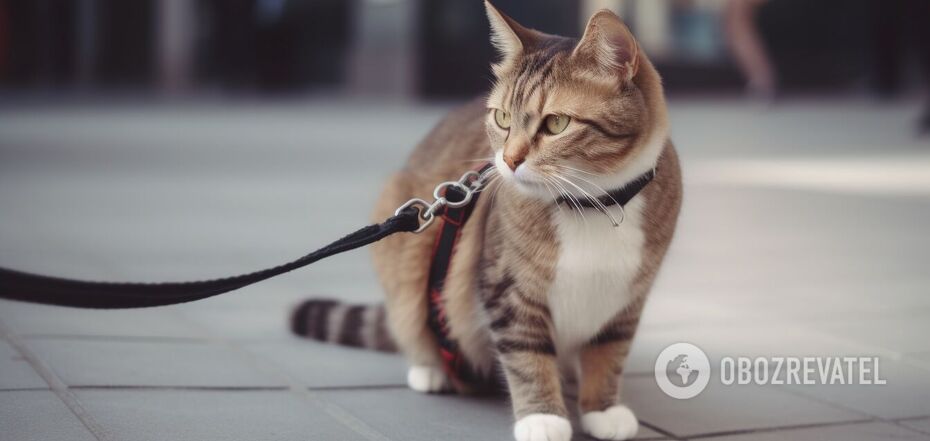 A cat on a leash is unnatural behavior
Owners of cats living in an apartment can't just let their pet out for a walk, as the fluffy cat can get lost or something can happen to him.
The owners have found a way out of the situation and use a leash for the cat. OBOZREVATEL will help to understand this.
In general, walking the cat on a leash is an unusual phenomenon for both the pet and the owner. The cat must be properly prepared so that he does not get stress.
To begin with, choose a comfortable leash, a harness is better, as it is soft and comfortable for small cats and dogs.
Before going outdoors, show fluffy the new accessory. Put the leash around their neck before playing or feeding them. This will leave a fond memor.
Walk your kitty around the apartment a few times to get him used to the new accessory. Then you can go outside with your pet. However, be careful, because the new environment can make him anxious and he will behave unaccustomed.
OBOZREVATEL also shared why cats arch their backs. Most owners do not even suspect what this may mean. But most often this behavior can be seen when the cat is afraid. It loosens its fur and appears larger and menacing.
Cats can also arch their backs because of pain or just from pleasant sensations.
Earlier OBOZREVATEL shared what product causes panic and unusual behavior in cats.
Subscribe to OBOZREVATELchannels in Telegram, Viber and Threads to keep up with the latest news.