Trending:
How to keep the carpet from slipping: what to put under it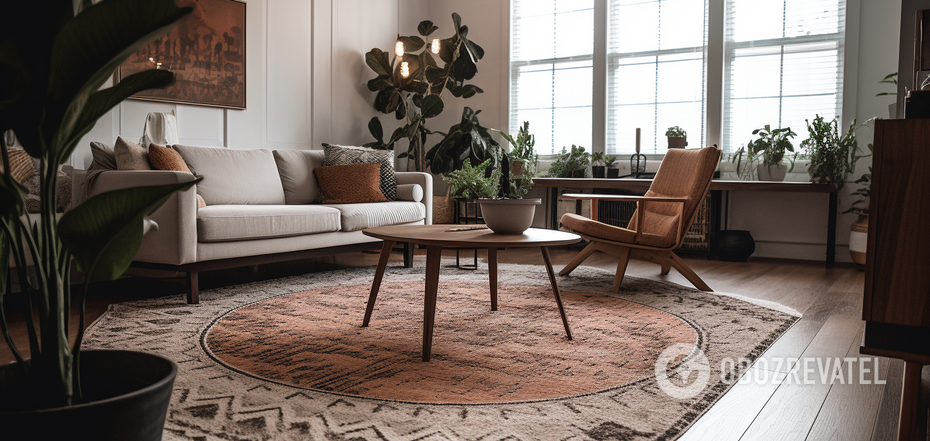 You can fix the carpet yourself with the help of simple tools
A large carpet or a compact rug can complete the design of any room, assemble furniture into a complete composition and create a real coziness in the house. But they can also cause an unexpected problem by slipping on the flooring. Then the carpet itself can start to get ugly, and it will be inconvenient to use.
Fortunately, there are many ways to prevent this trouble. OBOZREVATEL has collected all the effective tips.
Fixing it with furniture
If you think about the situation so that the edges of the carpet press down on heavy pieces of furniture, such as a wardrobe or sofa, you can avoid the problem of slipping. Moreover, such large objects are not moved very often. In addition, this method does not require additional funds.
Special substrates
You can sew or glue a fixing backing onto the carpet right at the store where you buy it. It is selected depending on the size and thickness of the carpet, as well as the material it is made of and the flooring. It can be polyurethane, rubber, wool, adhesive-based, etc. This material will hold the carpet securely in place. You can add it later by buying everything you need separately. However, such a backing is quite expensive.
Rubberized or silicone corners
The action of these corners is similar to that of a fixing backing. They are fixed mainly in the corners of the carpet and hold it in place. However, they may not be able to cope with a large area of coverage.
Carpet tape
It is used to lay carpeting. But it can also be used for fixing. Such tapes can be double-sided, fabric, prolipropylene, etc. A properly selected tape will cope even with a large and heavy carpet. However, after each removal of the carpet for cleaning, such a tape will hold worse and worse. Therefore, this solution cannot be called durable.
Silicone sealant
This product not only blocks gaps well, but can also hold a small rug in place. But it must be applied correctly. You need to take 100% silicone sealant, apply it to the underside of the carpet and gently spread it with a spatula. Leave the product to dry overnight. After that, it should hold the coating well on the floor.
Liquid latex
This product is applied in much the same way as a sealant. And it works with about the same reliability.
Hot glue
There is no need to glue the carpet to the floor. Thermoplastic adhesive can also be applied to the back of the carpet, like latex or silicone. When it is completely dry, it will form an anti-slip coating.
Furniture Velcro
A sticky tape that can be used to stick lightweight objects such as paintings or photographs to the wall will also work with a not too thick carpet. Stick one half on the floor, and the other half on the wrong side of the carpet. And then connect them together like Velcro on clothes or shoes.
Earlier, OBOZREVATEL told you how to easily clean plush toys from dirt.
Subscribe to OBOZREVATEL's Telegram and Viber channels to keep up with the latest developments.