Trending:
How to keep parsley fresh for a long time: what housewives advise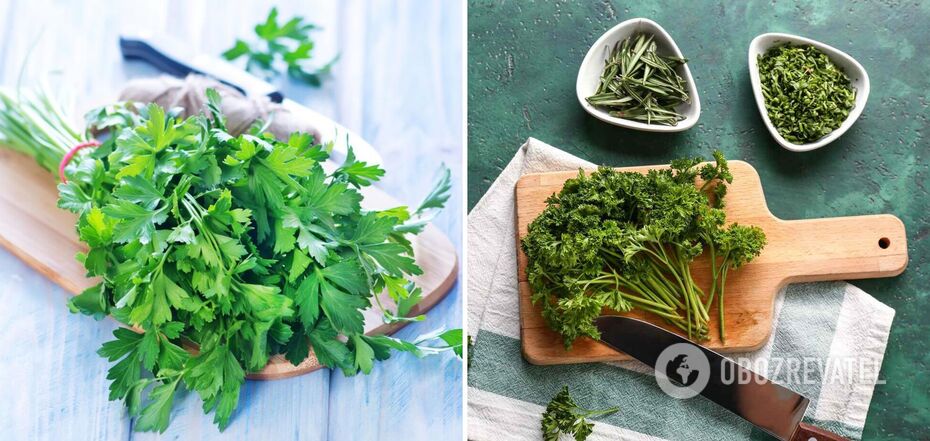 Chopped parsley can be stored for a long time in the refrigerator or in the freezer
Spices and aromatic herbs are great ingredients that enhance the flavour of dishes. But they can only do this if they are fresh enough.
Fortunately, you can keep herbs fresh with the help of simple life hacks. OBOZREVATEL tells you what to do with parsley to enjoy it for up to two months.
How to choose parsley
For storage, it is better to take only those stems that have a bright green colour and smell pleasant. Avoid dried, brown or shrivelled parsley, which has lost its freshness before it is stored.
Store parsley in an airtight container
There are two ways to preserve herbs. Each of them begins with the parsley being thoroughly washed, dried and finely chopped.
Then it can be poured into a glass jar with an airtight lid and placed in a cool, dry place, or it can be put in the fridge. In a jar, parsley can be chopped together with the stems; it is better to put only chopped leaves in the refrigerator. For cold storage, the herbs are poured into a plate and placed away from other foods that may get on it. Also, the parsley will need to be stirred daily to ensure that it dries evenly.
The method with a water jar
You can use herbs to decorate your kitchen like a bouquet. To do this, take the bunch you bought and cut the stems to about 12 mm - this way the plant will absorb more water. Next, remove any substandard leaves so that they do not cause rapid decay, and make sure that the remaining leaves are dry.
Then, place the parsley sprigs in a jar or glass container three-quarters full of water. This bouquet can also be stored in the refrigerator. To do this, wrap the jar loosely in a plastic bag and secure it with a rubber band.
Change the water in the jar every other day to keep the herbs fresh. Before using, rinse the parsley with cold water and pat dry with a paper towel or salad bowl.
The paper towel method
For this life hack, take a bunch of herbs and wrap them in a damp paper towel. Then put the parsley in an airtight bag that can be stored in the fridge. The towel will need to be moistened again as it dries. Inside such a package, the herbs remain fresh for a long time.
Storage in the freezer
To freeze parsley, wash and dry it thoroughly. Then chop it, put it in a dry container or bag and put it in the freezer. It is better to divide the herbs into portions beforehand, so it will be easier to use.
Storage in oil
This way you get not only fragrant herbs, but also oil divided into portions that can be used immediately for cooking. To make parsley in oil, wash, dry and chop the herbs. Then fill an ice cube tray with it. After filling each cell, add a little refined oil to it - the main thing is that it should be odourless. Put the mould in the freezer. The resulting cubes can be used to flavour soups and stews.
You can also store parsley with vegetable oil by putting it in a freezer bag. To do this, put finely chopped parsley inside the bag, add 2 tablespoons of oil and close it, carefully removing all the air from the bag.
By the way, in an ice cube tray, chopped parsley can be filled with water as well as oil. After preparing such cubes, you can put them in a freezer bag and use them as needed.
Earlier, OBOZREVATEL told how to save indoor plants from yellowing with the help of a product that is in every kitchen.
Subscribe to OBOZREVATEL's Telegram and Viber channels to keep up with the latest news.