Trending:
How to insulate windows: the easiest home methods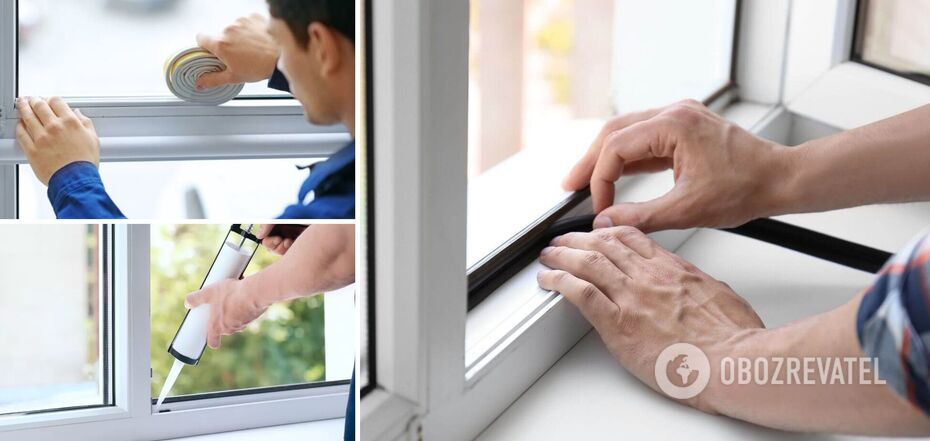 How to insulate windows before winter
Insulating windows will help reduce heat loss and save on heating. A cold winter is ahead, the occupiers continue shelling, and the authorities express a high probability that the Russians will resume attacks on critical infrastructure. Therefore, you should take care of home insulation in advance.
OBOZREVATEL has collected the easiest and most effective home ways to insulate windows. You will need affordable materials: cotton wool, foam rubber, paper strips, and adhesive tape.
How to insulate windows with foam rubber and tape
The most budget-friendly option is to use foam rubber (or cotton wool) and adhesive tape. Cut the foam rubber into strips and put them in the cracks. After that, seal the surface tightly with tape.
Swedish technology
The Swedish technology is based on the use of tubular material made of silicone rubber. It is important to choose a high-quality sealant that will not be damaged by temperature changes. Typically, a tubular profile has a service life of more than 20 years. It should be pre-glued to the window grooves, sealing them very tightly.
High molecular weight polymers
An innovative polyester-based material will also help protect windows and keep your home warm. This energy-saving film contains organic compounds, metals and their oxides, and its structure is inert to aggressive household chemicals and does not contribute to the formation of dust on windows.
In fact, polyester protects the glass from damage. The film has high frost resistance.
The first step is to wash and degrease the glass. After that, the joints of the frames are carefully sealed with foam rubber or another selected sealant.
Glue a double-sided tape to the window frame, and attach a layer of film of the right size around the perimeter.
Use a hair dryer to smooth the film.
An important note: there is no need to stretch the polyester too much, the material will take the desired shape over time.
Silicone sealant
Sealant is considered a reliable and durable alternative to other means of insulation.
Remove the glass from the window, clean the seat from dirt and dust.
Carefully apply a strip of silicone.
After that, replace the glass and carefully fix it with glazing beads. In fact, you will repair the windows simultaneously with the insulation.
Insulation of plastic windows
In general, plastic windows do not require insulation, but over time, even these high-quality structures lose their protective properties.
Plastic windows need to be insulated if the rubber gaskets wear out or lose their elasticity. A frequent reason is also the beginning of depressurization of the areas between the slopes and frames. In old houses, the wall shrinks, and as a result, cracks appear.
Earlier, OBOZREVATEL told how to insulate windows, doors and houses in general.
Subscribe to OBOZREVATEL 'sTelegram and Viber channels to keep up with the latest developments.