Trending:
How to grow smooth and juicy carrots: what to water with in the summer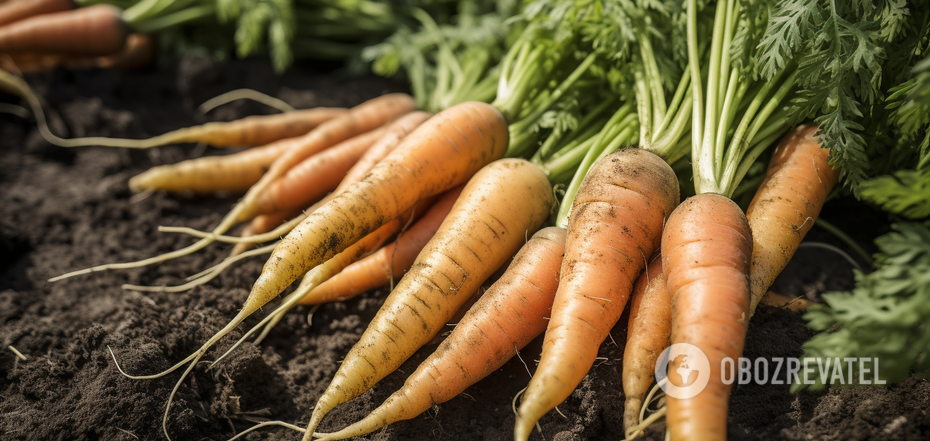 How to grow big carrots
Carrots are a very demanding crop, as they need sufficient light for quality fruit formation. Large and juicy carrots will only grow on fertile loamy and sandy loam soil. If a crust forms on the surface of the soil during a drought, root crops will quickly stop growing and even suffer from fungal diseases due to the violation of air exchange.
Proper watering is very important for a quality harvest. How to water carrots to get smooth and juicy crop, read OBOZREVATEL material.
How to prepare a saving remedy
The solution will not only protect carrots from fungal diseases and pests but also accelerate the ripening of root crops.
Ingredients:
manganese;
boric acid;
water.
Step 1. Dissolve 3 g of manganese and 10 g of boric acid in a bucket of water.
Step 2. Water the bushes under the root.
An important note: you can use this fertilizer only if you moisten the plant beforehand. A day before applying the fertilizer, water the soil abundantly. You can pour the solution under the root only 24 hours after the preliminary watering.
Fertilization will help to form fruits of the correct shape. Experienced vegetable gardeners say that the fertilizer has a positive effect on taste qualities, making carrots juicy and rich.
By the way, it is important to observe the rules of crop rotation. Do not grow carrots in one place for several years in a row. Already in the second year, the risk of damage to the fruits of alternariosis, carrot fly, nematodes and aphids increases. It is better to plant carrots on a bed where cucumbers, cabbage, tomatoes or legumes used to grow.
Attention should also be paid to the correct neighborhood. Carrots will have a bitter taste if planted next to horseradish, parsley or dill. Moreover, beets will shade carrots, so the fruits will grow small.
Tol increase the yield of carrots, add fertilizer from wood ash and urea. To know the propotions and method of preparation, read our material.
Earlier OBOZREVATEL shared what varieties of carrots are the most delicious.
Subscribe to OBOZREVATEL channels in Telegram, Viber and Threads to be aware of the latest events