Trending:
How to grow garlic on a windowsill: a simple trick with water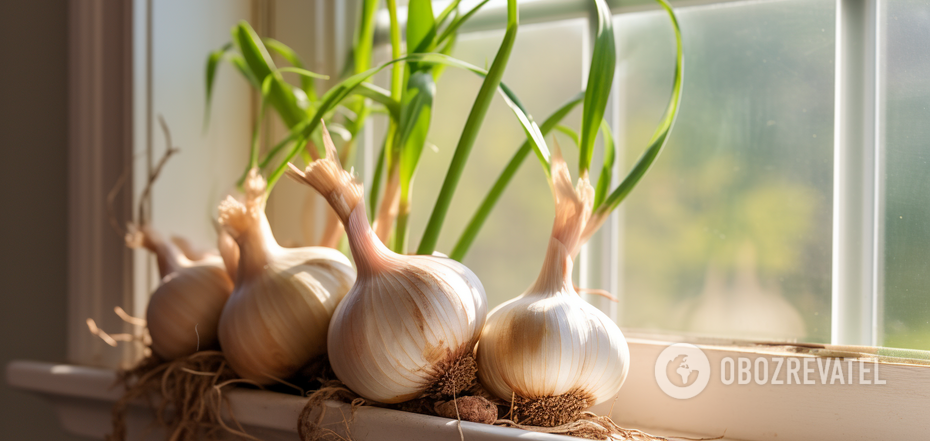 The best place to sprout garlic is on the east window
Winter is coming and there will be less fresh vegetables and herbs even in stores. And those that are available will cost a lot of money. Meanwhile, you can provide yourself with vitamins on your own. For example, by growing garlic into greens or even cloves right on your windowsill.
OBOZREVATEL tells you how to do it right. All you need is a healthy and juicy head of garlic from the nearest market or store, a small plastic bottle and a little water.
Take the head of garlic you plan to sprout and cut off the top. Do not cut off too much so as not to damage the core, where the bud is located.
Next, cut a small plastic bottle to fit your garlic clove. Insert the vegetable so that its lower part is in the bottle and the cut upper part is slightly higher than the edge of the bottle. Pour water inside so that the root part of the garlic is slightly submerged. But never let the vegetable touch the bottom of the container, as this will cause it to rot.
Place the bottle of garlic in a well-lit place. Ideally, this should be an eastern window sill, where there is the most light in the morning. While the plant is germinating, keep an eye on the water - as soon as it starts to become cloudy or dark, replace it with clean water.
Soon, the garlic will begin to produce young green sprouts that can be eaten. They taste savory and are rich in nutrients.
But you don't have to stop there. When the plant grows a strong enough root system, it can be transferred to the soil for further cultivation. It is better to use a special soil mixture for vegetables, but a universal one will do. You'll need as many small pots as you want to grow. Or you can take a plant box and plant several at once. Divide the sprouted garlic into cloves and plant them in the ground so that it completely covers each clove. Water the plant regularly, but in moderation - garlic does not like waterlogging. And try to provide the plants with 6 hours of direct sunlight every day.
Earlier, OBOZREVATEL told you how to plant winter garlic in the open ground.
Subscribe to OBOZREVATEL 'sTelegram and Viber channels to keep up with the latest developments.