Trending:
How to get rid of the unpleasant smell from the kitchen bin: summertime smarties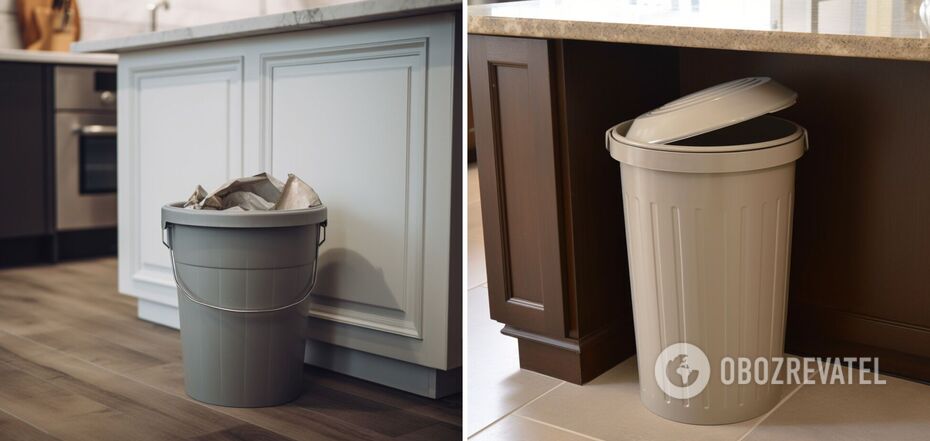 In summer, the rubbish bin becomes a source of unpleasant odours more often
The summer months are a joy to enjoy the pleasant weather and the outdoors. But the heat can also cause certain domestic problems, such as an unpleasant smell from the waste bin.
Leftover food spoils more quickly and thus spoils the atmosphere in the kitchen. "Ideal Home" has shared a few tips on how to get rid of the odour and keep it at bay.
Take out the rubbish more often
Higher temperatures mean any food waste will spoil more quickly. Therefore, the frequency of emptying the bin should be increased. If possible, buy small waste bags and empty the bin every day. Every other day is also an acceptable regularity. This will, among other things, keep fruit flies out of the house.
Use diffuser sticks
If you're scenting your home with a diffuser, don't rush to throw away used sticks. You can put them in a rubbish bag to reduce the unpleasant smell from it.
Add a few drops of essential oil
For those who don't use diffusers, there's a fragrance liefac, too. And it's essential oil. Apply a few drops of your favourite to a paper towel and place it in the bottom of the bin. By the way, oils from plants such as peppermint, lemongrass and lavender will prevent flies - they can't stand those smells.
Don't forget the baking soda
Baking soda is a good at absorbing odours and moisture. Sprinkle a little on the bottom of the bucket and it will do the job. Baking soda can also be scented with essential oils.
Use a toilet freshener
A strip of freshener can be stuck under the rim of the toilet bowl. It works just as well if applied to a waste bin.
Freeze food waste
This is the most environmentally friendly way of all. So you don't have to throw away any leftovers, freeze all the food you haven't finished eating. This way you can use up the leftovers when you don't have time to cook something fresh. You can also put frozen leftovers in the garbage - until they thaw, they won't smell at all.
Buy an odour filter
Modern waste bins often contain a special compartment for an ambiguous purpose. This is the recess for the odour filter. Get one and change it periodically to give your kitchen a fresher ambience.
Clean the waste bin
To avoid liquids collecting at the bottom of the bin, which itself can give off an unpleasant odour, wash the bin once a week using a mild solution of dishwashing liquid in warm water. You can then wipe it down with another solution containing a scented cleaner. All that's left is to dry the bucket and drape it in a new bag.
Earlier OBOZREVATEL told you how to quickly and easily clean kitchen blinds, including mold and grease.
Subscribe to OBOZREVATEL channels in Telegram and Viber to keep up with the latest developments.