Trending:
How to get rid of musty odor from clothes: simple methods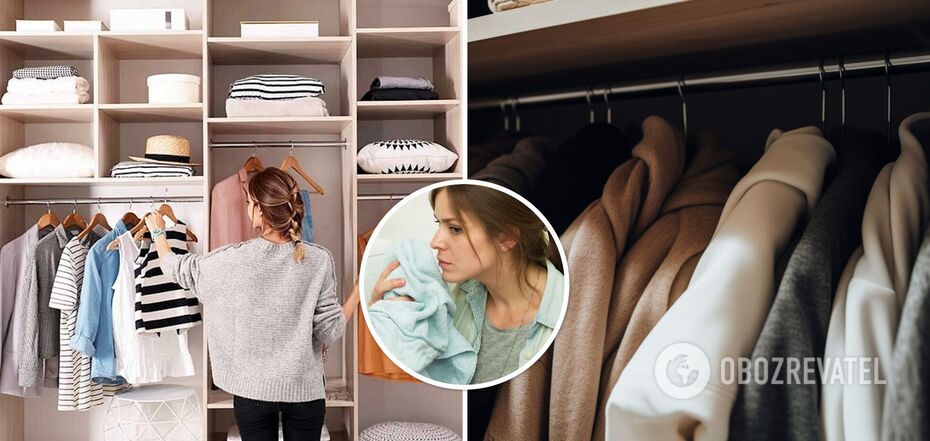 How to get rid of musty odor
Clothes that have been lying in the closet for a long time usually have a pronounced unpleasant odor. But there are other factors that provoke musty odor: long storage of things in the machine after washing, drying in a cramped bathroom, insufficient ventilation, etc.
OBOZREVATEL offers three effective ways that will help to get rid of musty odor from fabrics. The first thing to do is to thoroughly wash the closet.
Preventive measures
To prevent musty odor, you need to properly wash and store your clothes. Excessive moisture can even lead to the appearance of mold.
You should remove all clothes from the closet, wash the shelves with water and detergent or vinegar and ventilate.
Remove clothes from the washing machine drum immediately after the washing cycle is complete.
Do not hang clothes, especially thick fabrics, too tightly on the dryer. Clothes need ventilation and fresh air to dry.
Washing with vinegar
White vinegar is an effective natural disinfectant. When washing by hand, you can soak the clothes in water, adding a tablespoon of vinegar. When washing, you should include an extra rinse cycle and use a quality conditioner to help the acidic odor evaporate.
Essential oils
Experts also recommend using essential oils. Citrus or pine scents will do the best job of dealing with musty odors. Simply add a few drops of essential oils to the water during the rinse stage.
Powder or liquid remedies
To neutralize unpleasant odors, it is better to use laundry detergent rather than liquid detergents. Be sure to add fabric conditioner or fabric softener during the rinse stage.
Baking soda
Baking soda has deodorizing and absorbing properties. In a container, mix water, one tablespoon of laundry detergent and three tablespoons of baking soda. Experts advise soaking the clothes for at least 20 minutes and then washing them in the machine.
By the way, if mold appeared on the clothes after long storage in the closet, you can try to remove it with the help of lemon juice. This flyhack is also suitable for white and light-colored things. You will need 2 liters of warm water, the juice of 2 lemons, 1 teaspoon of salt and 1 tablespoon of soap. About the advantages and disadvantages of this method - read in the material.
Earlier OBOZREVATEL told how to accurately calculate the dose of the washing agent, so that it does not spoil the fabrics and machine.
Subscribe to OBOZREVATEL channels in Telegram, Viber and Threads to keep up to date with the latest events.