Trending:
How to get rid of moths at home: quick and long-lasting tips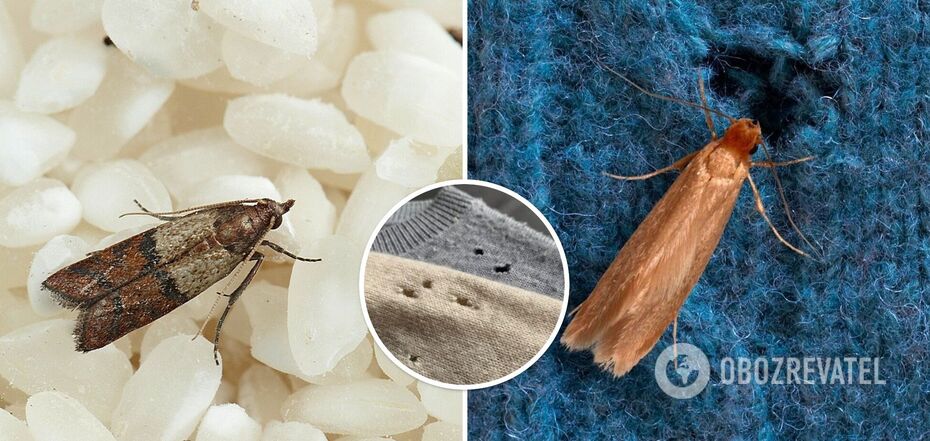 How to get rid of moths
Moths feed on substances contained in wool and fur. These insects do not tolerate bright daylight and artificial light, so they love to settle in chests of drawers, barns and closets.
The life cycle of a moth is quite short: from a few days to a few weeks. However, the insect manages to lay a huge number of eggs during this time. Good Housekeeping reports on effective and long-lasting ways to get rid of moths.
Why you need to get rid of moths
First, you should determine the type. It can be clothes moths that usually live in closets and love wool and fur products, eating the threads from the inside, pantry moths that can settle in cereals, dried fruit, nuts and other groceries, and white-shouldered house moths that gnaw the hair padding of upholstered furniture. They can also be found in rice, crackers, cereal and other long-lasting foods.
Experts and pest control specialists from the Housekeeping Institute's Home Care Laboratory have provided the best tips and tricks for moth control.
Insects find many paths to your home. They can fly in through an open door or window, hide in fabric fibers (including used clothing), or even sneak in through small cracks in the facade.
Carolyn Forte, executive director of the Good Housekeeping Institute's Home Care Lab, noted that even stains like sweat or clear drinks that you can't see can oxidize and attract insects.
In addition to holes, moths leave behind cobwebs, fibers and feces that look like small grains of sand.
How to control insects
Potentially infested clothing and food should be thrown away. If clothes are too expensive for you and you don't want to get rid of them, experts advise washing them in hot water with detergent. The best thing is to take such clothes to a dry cleaner.
Vacuum everything both in the kitchen and the closet, including carpet, walls and baseboards. Use a special nozzle to clean all the corners. Throw away the vacuum bag or empty the dust bag outside and wash it thoroughly, as it may contain eggs. Wash the shelves and walls with a mixture of soapy water thoroughly. You can wipe the shelves with a 1:1 mixture of white vinegar and water.
Moths used to be treated with naphthalene. Now experts believe that the chemical is dangerous to health.
How to protect clothes from moths
Seal seasonal clothing in airtight bags or boxes.
Store items in a dry place.
Wood oils can prevent infestations by harming small larvae, but they won't help get rid of adult insects.
How to protect food from moths
Store food in glass or hard plastic airtight containers.
Choose dry storage areas as insects love moisture.
You should also check food from the grocery store before putting it in a drawer or on a shelf.
Scented herbs are great at repelling moths. Fill a plastic bag with herbs like lavender, rosemary, cloves, etc. and put it on the shelf with cereal. You can use essential oils for clothing.
OBOZREVATEL previously shared how to arrange a trap for moths.
Subscribe to OBOZREVATEL channels in Telegram and Viber to be aware of the latest events.