Trending:
How to get rid of moss on paving slabs: effective ways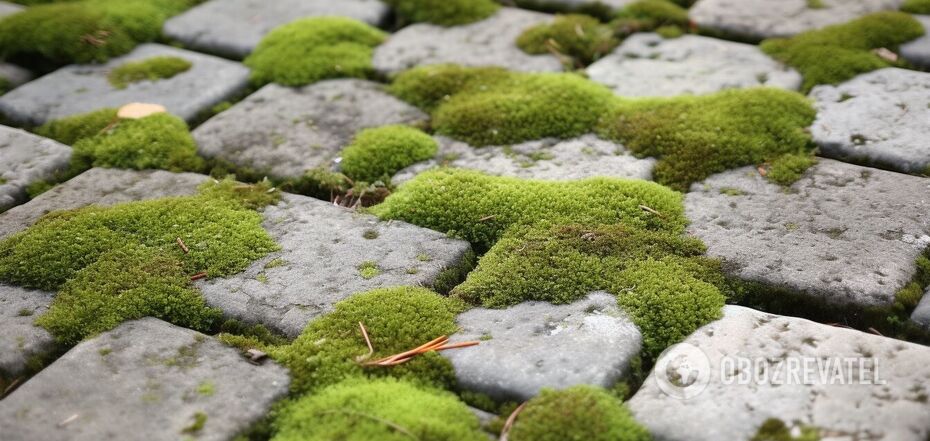 Moss on tile
Moss can appear on your sidewalk tiles and give your yard an unkempt look. The plant has no roots, predominantly grows in moist environments and can easily adapt to any conditions.
Moss can even be life-threatening due to its smoothness and softness because you can easily slip and fall on it. OBOZREVATEL found effective ways to help get rid of the unwanted plant in your yard.
In order not to buy expensive chemical means, you can use natural ingredients.
To begin with, it is necessary to prepare the site for the treatment of moss. Clear the area from furniture and other items, if there are any. Get rid of debris by sweeping the yard and then you can start fighting the plant.
Baking soda
This mixture is definitely in every home, because it is an indispensable assistant in cleaning. Soda will also effectively cope with moss. To do this, simply sprinkle the powder on the necessary areas and leave it for twenty-four hours.
Then remove the plant from the paving stones. Thanks to the abrasive property of soda, you can quickly cope with the problem. But this method should be used in dry weather.
White vinegar
This is another available ingredient that you can use to get rid of moss. Dilute vinegar with water in a one to one ratio and spray on the plant. Leave the solution for a few hours and then remove the plant from the paving stones. It is best to do this on sunny days.
Boiling water
If you don't have a lot of moss in your yard, boiling water can help deal with it. Pour boiling water over the necessary areas and leave it for 3-4 hours, then clean the tiles of the pesky plant and enjoy the good looks of your yard.
Earlier OBOZREVATEL published a recipe for a folk effective remedy that will help to remove the weed.
Subscribe to OBOZREVATELchannels in Telegram and Viber to be aware of the latest events.