Trending:
How to get rid of mold: the best home method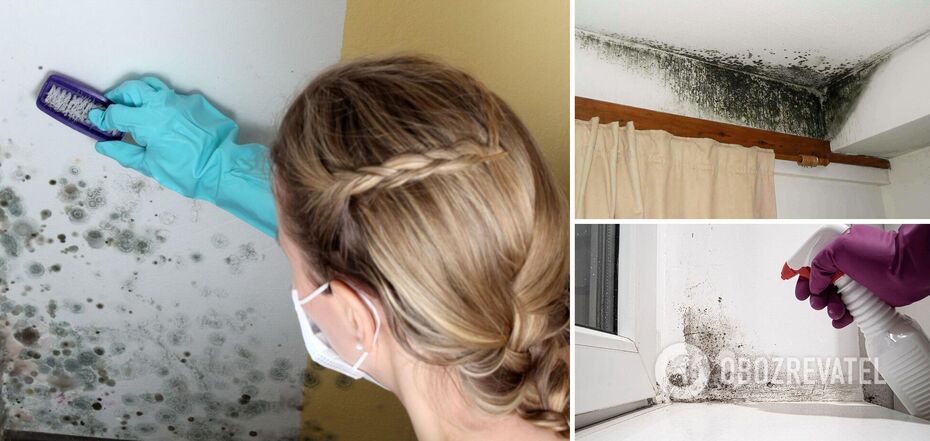 How to effectively get rid of mold at home
Mold grows in damp and humid conditions and insufficient ventilation can also cause mold. More mold appears in cold seasons, when condensation is highest.
Black mold can cause serious health problems, and even a small spot can grow and create a harmful environment. Many remedies contain strong chemicals, so the Express has revealed how to fight mold with homemade ingredients.
Simple solutions that include vinegar or baking soda are some of the most effective ways to fight black mold. However, there are other effective black mold remedies as well.
White vinegar
Take a container with a sprayer, pour water and white vinegar. Mix thoroughly and then treat surfaces with mold.
If the spray is used in closets, remove all clothing and keep the door open to allow air circulation. Afterward, be sure to wipe it down with a clean, damp cloth.
Baking soda
Mix baking soda and water until a paste-like mixture is formed. Rub it on all moldy surfaces in the room. After rubbing thoroughly, splash the stains with water and wipe with a sponge.
This is useful for removing mold around windows where condensation constantly occurs.
Bleach
Bleach can be used beyond its intended use for laundry. Mix bleach and water and spray the solution on the mold. Don't rush to wipe it off - the solution needs time to work. Experts say you should leave the bleach on the mold for at least 4 hours.
Tea tree oil
According to British expert Nick Shelock, the properties of tea tree oil make it extremely effective against mold growth.
Mix tea tree oil with water and spray on the most infected areas. This will not only get rid of the mold, but also prevent further mold growth.
Grapefruit seed extract
This is not a very well known cleaning product that has many benefits. The natural eco-friendly remedy will remove mold, filling the room with a pleasant aroma.
Mix the extract with water to scrub away mold in tight corners and on the ceiling. The solution should be left on the mold for 10 minutes.
Earlier OBOZREVATEL told about the non-obvious signs that you have mold at home.
Subscribe to OBOZREVATEL channels in Telegram and Viber to be aware of the latest events.