Trending:
How to get rid of mold in the shower: the most effective methods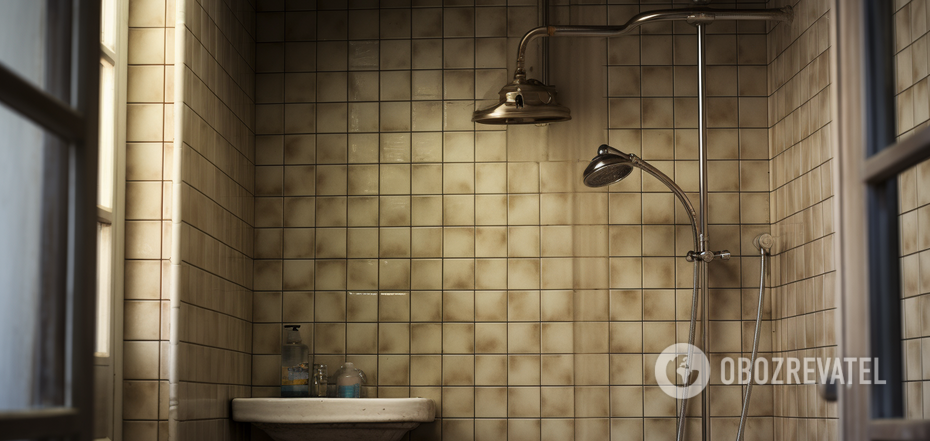 Mold in the shower is a common problem, and it should be dealt with immediately
The bathroom, as the most humid room in the house, often suffers from mold on the walls, ceiling of the shower and other surfaces. This problem is much more serious than it seems at first glance, as mold fungi are quite dangerous to health. Therefore, they need to be removed as soon as you notice the first signs of the development of these microorganisms.
OBOZREVATEL decided to ask how to do this most effectively and not spend too much money. As it turned out, some home and natural remedies can remove the problem and at the same time help keep the bathroom clean and fresh. However, you can also resort to more drastic measures if the problem has spread.
Natural remedies
A combination of baking soda and vinegar works well on mold stains. To use its power, you need to moisten the infected area and sprinkle it generously with baking soda. The water is needed to ensure that the product adheres well to the surface. After that, the soda is generously sprayed with vinegar from a spray bottle. The substances will react and begin to foam. When the foaming stops, you will need to wash off the remaining baking soda and vinegar and wash the treated area with a regular detergent that you use in the bathroom.
You can also prepare an acid solution to combat mold. To do this, mix a glass of water, half a glass of vinegar, two tablespoons of pharmacy hydrogen peroxide, and 50 ml of boric acid in a spray bottle. Shake the spray bottle thoroughly so that all the ingredients are mixed, and treat the contaminated areas with the mixture. The product should be given as much time as possible to work. It is best to leave it on overnight. After that, wipe off the mold residue with a disposable cloth and rinse the surface thoroughly.
To prevent the appearance of mold, it is recommended to use the disinfectant properties of tea tree oil. Mix 1-2 teaspoons of the product with a small amount of table salt and dissolve this salt in a glass of water. This spray is used to treat areas where traces of mold have just appeared, or places where it starts to grow from time to time.
Chemical solutions
Copper sulfate has pronounced antifungal properties. It should be diluted in a proportion of 10 grams per liter of water and applied with a spray bottle. It is better to treat the entire bathroom with this solution, even in places where there are no visual signs of infection. In a few minutes, all treated surfaces are washed and dried thoroughly. After treatment, it is also important to ventilate the room properly.
Chlorine is another effective anti-mold agent. Ordinary chlorine bleach can be dissolved in a ratio of 100 ml per 1 liter of water and the infected surfaces can be treated with this mixture. Or you can buy a ready-made chlorine-based spray. It will be enough to simply rinse it off with clean water after treating the bath or shower.
Earlier, OBOZREVATEL told you how and with what to clean the shower head from limescale.
Subscribe to OBOZREVATEL'sTelegram and Viber channels to keep up with the latest developments.