Trending:
How to get rid of mold in the house: grandma's trick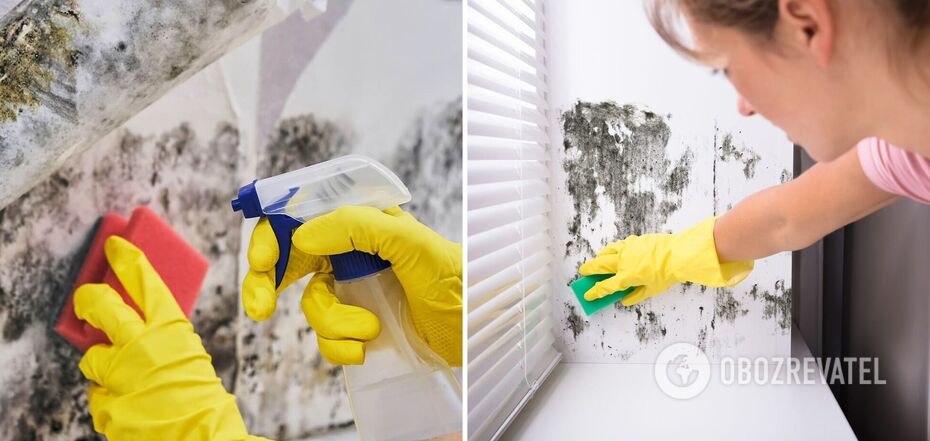 Walls can be treated with home remedies to eliminate mold.
Mold develops indoors in moisture and brings with it many problems. The spores of mold fungi can be harmful to health, and the problem itself hides in inconspicuous places - under carpets or wallpaper on the walls. But you can get rid of it. And even with the help of improvised means.
Sante Plus tells about two proven "grandmotherly" methods. You can use ingredients available at any supermarket or drugstore. You should start fighting mold as soon as you notice the first signs of mold. Protect yourself with gloves and a respirator when cleaning with any of these methods.
Borax and vinegar
Sodium tetraborate (borax) combined with ordinary white vinegar is good against mold. To make a suitable spray, you need to take:
2 tablespoons of borax;
A quarter cup of white vinegar;
2 cups of hot water.
All the ingredients are thoroughly mixed in a spray bottle, then the resulting mixture is applied to the areas where mold appears. Keep the product for 60 minutes. After that, the treated surface is wiped with a sponge, rinsed thoroughly with water and dried with a rag or towel.
Soda, soapy water and vinegar
This cleaning is done in three steps. For the first you need to prepare a paste of baking soda and a small amount of water, apply it to the surface and wait an hour, then carefully wipe the treated areas with a stiff brush. Then the mechanically cleaned surface is rinsed and proceed to the second stage.
To complete the cleaning, you need to take a soapy solution. This can be a solution of dish detergent, laundry gel or laundry soap. After treatment, it is washed off and the wall is dried.
The third step is to treat the surface with a 1:1 solution of white vinegar and water. This should destroy the remains of fungal spores. The remedy can be left until it dries, then rinse the surface and ventilate the room.
To prevent mold from starting up again
The main method of fighting mold is to get rid of excessive moisture. So check your ventilation system. It must be working properly and remove excess water vapor from the room. Don't forget to air it routinely.
If possible, do not dry laundry in the house. Repair any cracks in the walls. Also insulate your home - this will help prevent mold from developing in the wintertime in the first place.
Earlier OBOZREVATEL told you how to reduce the amount of dust in the house by simple methods.
Sign up for channels OBOZREVATEL in Telegram and Viber to be aware of the latest events.