Trending:
How to get rid of mattress stains: a cleaner's advice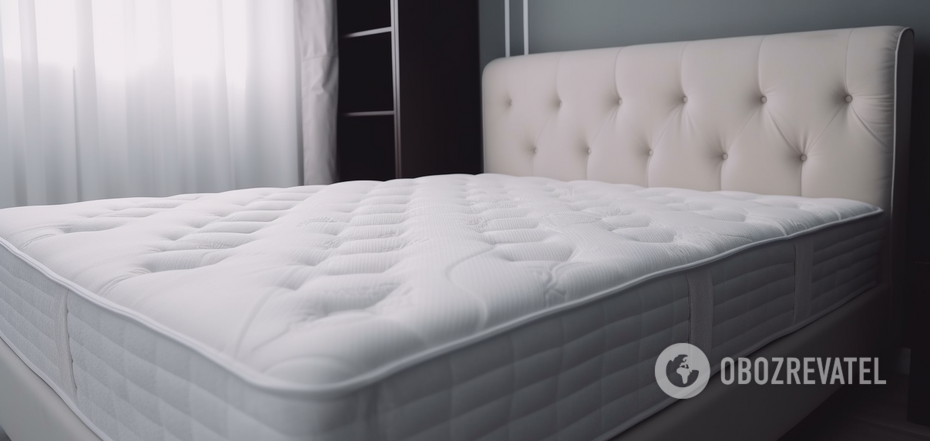 How to clean stains on a mattress
According to statistics, people spend a third of their lives sleeping, so it is very important to make your bedroom comfortable. First of all, you should pay attention to the mattress - it collects a lot of dust, sweat and dead skin cells.
Dust is an ideal environment for mites and insects that cause allergic reactions. Depending on the degree of dirt, it is recommended to clean the mattress at least twice a season. How to get rid of stains, told the publication Express.
Vanessa Amaro, a cleaning expert, regularly publishes information on the best methods of cleaning various surfaces in the house. Even stubborn mattress stains can be cleaned with a simple solution made from affordable ingredients.
You will need:
toothbrush;
a bottle with a sprayer;
two cups of water;
five drops of soapy water;
one cup of hydrogen peroxide;
a few drops of essential oil.
Hydrogen peroxide is the most effective remedy as it will remove even the most stubborn stains. The soap should be a neutral color so as not to damage the mattress.
Vanessa also explained that you can add five drops of your favorite essential oil, but it should be noted that some of them (eucalyptus, citrus and peppermint) can be harmful to pets.
Mix all the ingredients in a spray bottle and apply to your mattress. After the product is sufficiently absorbed, scrub the surface with a toothbrush. Take a white towel and wipe off the stains. Repeat the process until the soiling is gone.
In the comments, Vanessa said that this cleaning technique should work on coffee, chocolate, and blood stains.
By the way, washing your mattress and getting rid of dust mites will help with baking soda. Wipe the surface with detergent, dry and sprinkle baking soda on top - it will quickly absorb excess moisture and neutralize odors. This natural powder is relatively mild and is great for most fabrics. Leave it on for a couple of hours and then vacuum well. For more information about this lyphhack - read in the material.
Earlier OBOZREVATEL told how to clean urine stains on the mattress.
Subscribe to the channels OBOZREVATEL in Telegram and Viber to be aware of the latest events.