Trending:
How to get rid of ice formations in the freezer: an effective method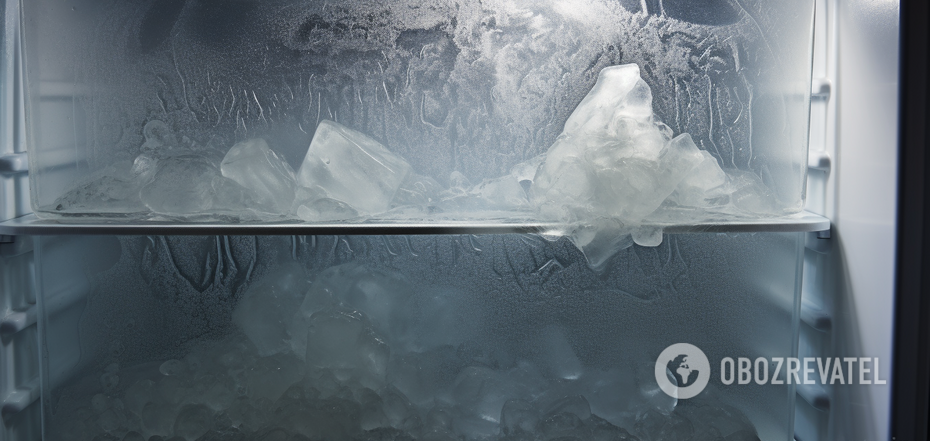 This life hack will tell you what to do if your freezer produces too much ice
The ice that forms in the freezer compartment is a good reason to defrost the refrigerator completely from time to time. However, this procedure is quite time-consuming, and experts do not recommend doing it too often to avoid damaging the appliance.
And then the question arises: what to do with a freezer in which ice freezes quickly and in a thick layer? In fact, there is an effective life hack that allows you to slow down this process. OBOZ.UA tells you more about it.
Defrost the camera with a salt solution
In any case, the fight against excessive frosting should begin with defrosting and cleaning the freezer. Simple salt water will help you do this quickly and effectively.
First of all, unplug the appliance, open the door, and put a bowl of hot water inside the freezer. Prepare a salt solution for cleaning, mainly dissolve 2 tablespoons of common salt in a glass of warm water. Pour this mixture into a spray bottle and spray it all over the walls of the freezer. Leave it to work, but change the container of hot water if necessary.
After a few minutes, the ice will begin to slide off the walls of the freezer. Remove it carefully to avoid damaging the parts. Then wash the freezer. After it dries, it will be useful to treat it with hydrogen peroxide or chlorhexidine, which will help disinfect the chamber, which often stores meat and fish.
How to treat the freezer against frost
Simple glycerin will help slow down the formation of ice in the freezer. When the chamber is dry after washing and disinfecting, take a few drops of the product on a soft and clean cloth and spread it evenly over all surfaces in a thin layer. The physical properties of glycerin will help prevent ice from freezing quickly.
What else to do to avoid excessive ice formation
Check that the temperature in the freezer is set correctly. Most manufacturers recommend setting it at -18 degrees Celsius.
Check the drain. It is located at the bottom of the freezer and is designed to drain excess moisture. If it is clogged, ice will form much faster.
Make sure that the door seal is working well because a poor fit due to a malfunction or contamination can allow warm air to enter, which will cause the freezer to work more intensively. As a result, frost will quickly form.
Do not open the appliance too often or put warm food in it. This will also force the freezer to work at a higher power.
Earlier, OBOZ.UA shared how to easily clean the grease from the kitchen hood.
Subscribe to OBOZ.UA on Telegram and Viber to keep up with the latest events.