Trending:
How to get rid of greasy stains on clothes: an unusual way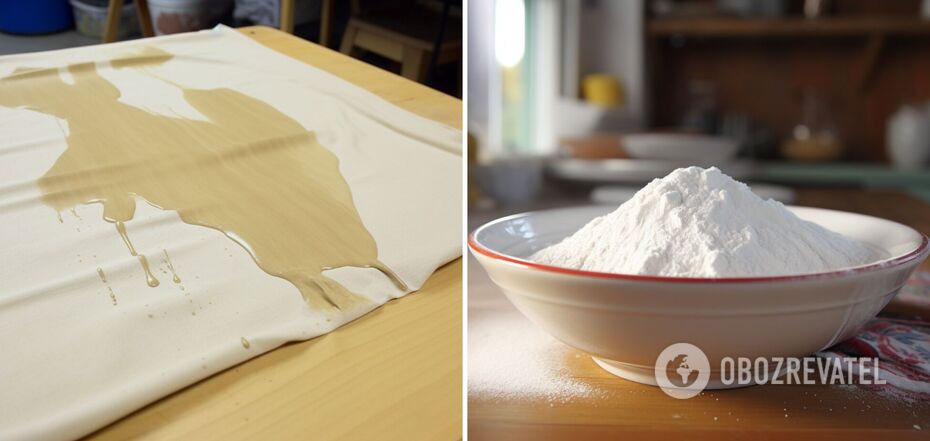 Rice flour is an effective remedy for grease stains on fabric
Grease stains on fabrics are among the most difficult to remove. Grease penetrates deeply into the fibers and is difficult to wash out, so even after several wash cycles, the problem may remain unsolved.
However, laundry experts say that this type of pollutant can be removed from the fabric with one simple product. OBOZREVATEL found out more.
The trick is to let the fat soak into a hygroscopic substance. And rice flour is probably the best way to do this. It absorbs even small amounts of liquid contaminants, including fat, well.
However, experts warn that the treatment is most effective if done as early as possible. This rule applies to any stains on textiles: the sooner they are treated, the better they will come out.
To get rid of grease on the fabric, place the item on a horizontal surface so that the area with the stain does not touch other areas of the item. It is better to place several paper towels under it to protect the surface from grease.
Next, sprinkle the grease stain generously with rice flour. The greater the dirt, the thicker the layer of product should be. It can be kept on a fresh stain for 1-2 hours - the fat that has not yet solidified will gradually be absorbed into the flour. An older stain should be covered with the product overnight.
During this time, you can periodically check how well the fat has been absorbed into the flour. When the product has coped with its task, it should be thoroughly shaken off the fabric, and then wash the item on a suitable cycle.
Earlier, OBOZREVATEL told you how to clean winter jackets without washing before the start of the warm outerwear season.
Subscribe to OBOZREVATEL'sTelegram and Viber channels to keep up with the latest developments.