Trending:
How to get rid of difficult stains on the carpet: an effective tip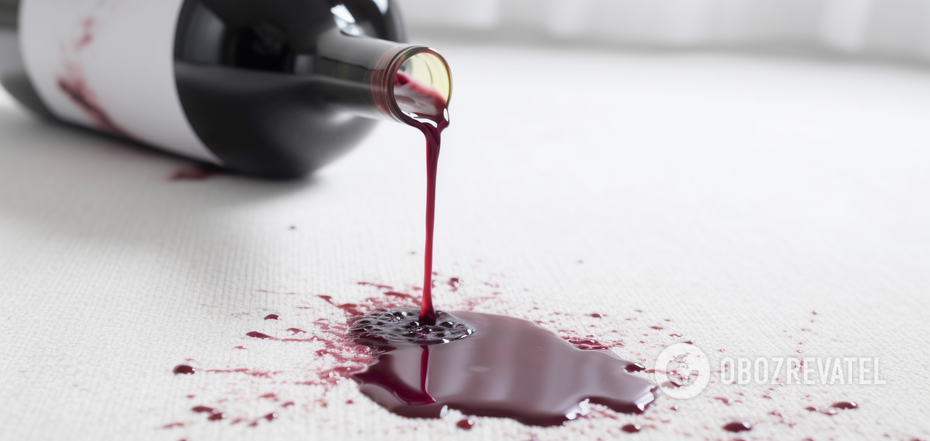 Typical carpet stains can be removed with homemade remedies
Although carpets give a room a special coziness, they are also more likely to get dirty. They're also more difficult to clean than hard coverings. In addition, it's easier to leave a stubborn stain on a rug that will require effort to remove.
The Express asked cleaning experts how you can remove tough stains from your carpet with your own hands. And they gave some professional tips that will help you cope with the problem quickly and without too much effort.
The most common types of dirt
While there are a million different types of contaminants that can be poured or filled into a carpet, only a few are really common. Among them, experts include:
bodily fluids, such as pet urine;
colored food and drinks like red wine, maple syrup, pizza;
colorless food and drinks like white wine or yogurt;
a variety of fats such as cooking oil or butter;
street dirt, particularly wet dirt;
art materials such as paints, felt-tip pens, plasticine.
How to properly clean stains
The general rule for removing all types of dirt is not to rub the stain, no matter how much you want to. It is also advisable to act as quickly as possible. It is always easier to remove a fresh, still wet stain than a stain that has already penetrated the fibers.
It is also recommended not to pour cleaning solutions directly on the carpet. They can be applied to a cloth or sprayed on the stain with a spray gun. And here are a few proven recipes for such sprays, which you can make yourself.
Solution based on dishwashing liquid
This product can be used to clean carpets with synthetic pile as well as with natural pile. To make it, take a clear dishwashing liquid, so that the dye itself will not leave a trace.
To prepare a solution for synthetic, a quarter teaspoon of detergent is mixed with one cup of warm water. For natural carpets, the concentration of the dishwashing liquid can be doubled.
Vinegar-based remedy
White vinegar for carpet cleaning should be diluted with water. If you need to clean synthetics, take two parts of water for one part of vinegar, for natural pile the proportion should be 1:1.
How to clean a carpet
If you remove the stain with a cloth or cotton pad, move from the edges to the middle, gently dabbing the stain with the cleaner. Spray the entire stain at once. Allow the product to work for 10-15 minutes, then remove it with a dry cloth or paper towel.
Do not rub the dirty place. It is better to repeat the treatment several times. Sooner or later you will get the desired result.
When the stain removal is finished, rinse the cleaned area with clean water and let the carpet dry naturally. While it is drying, try not to step on the wet part, so as not to crush the pile and make the carpet flat and stiff.
Earlier OBOZREVATEL told how to clean blinds and roller blinds from dust and stains.
Subscribe to OBOZREVATEL channels in Telegram and Viber to keep up with the latest events.