Trending:
How to get rid of dents on wooden furniture: an easy way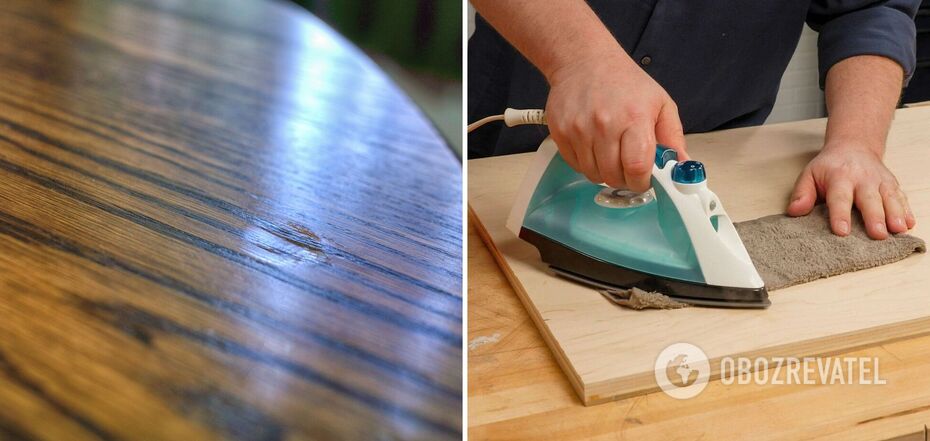 A simple life hack with an iron will help to remove small dents in the wood
Wood is a pleasant and environmentally friendly material. But it is also quite soft. If you drop something heavy on the dining room table or accidentally hit the surface of the board with a tool, it can leave a rather noticeable dent. The only solution to this problem may seem to be sanding.
But, as OBOZREVATEL found out, shallow damage can be removed without it. To do this, the wood will just have to be treated with water steam. This method works because the heated water penetrates the wood's texture, causing it to swell, just as wooden doors swell in a warm and humid environment.
You don't need any special tools to use this method yourself. A dishwashing cloth or washcloth and an ordinary iron will suffice. Even a flat-bottomed pot filled with boiling water will do.
Before you start processing, make sure that there is no dirt or small particles of wood left in the dent. Remove everything so that only the wood is treated.
Next, heat the iron to a high temperature and wet and wring out the cloth used for this method until it is damp. For small dents, you can drop a few drops of water on the damage and place the cloth over it for a more targeted effect.
When the surface is ready, start making small circular movements with the iron, just like you would with clothes. This way you won't cause thermal damage to the material. If the wood does not absorb steam due to a coating such as varnish or oil impregnation, you may need to sand off some of the coating with sandpaper. In this case, however, the finish will have to be restored to the treated area after the restoration.
The soaking and ironing trick may need to be repeated several times to get the desired result. After the restoration is complete, it may also be necessary to sand the treated area. This can be done with a special tool or ordinary sandpaper. It is better to use several different sheets, starting with a coarse grit and ending with the finest.
Earlier, OBOZREVATEL told how to properly wash wooden utensils so that they serve for a long time and are hygienically clean.
Subscribe to OBOZREVATEL's Telegram and Viber channels to keep up with the latest news.