Trending:
How to get rid of cat urine smell: 3 ways to restore things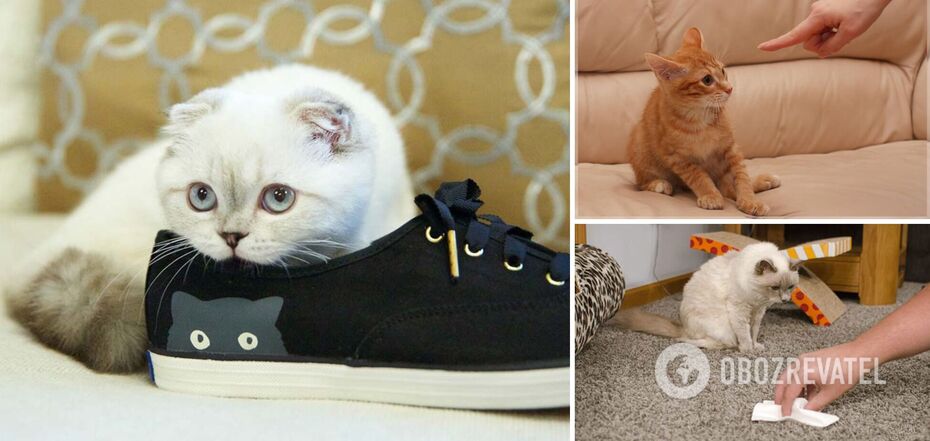 Cat urine has a very pungent and unpleasant smell.
The cat's habit of marking its territory causes a lot of trouble for owners. In early spring, pets become especially energetic, and it is not for nothing that people say that March cats are very troublesome because of their activity.
The smell of cat urine is peculiar and pungent, and it is very difficult to get rid of it. OBOZREVATEL has collected the most effective life hacks that will help to remove the smell of cat urine on things.
Life hack with lemon
Citric acid is an excellent neutraliser of unpleasant odours. As soon as you feel that your pet has done something bad, try this life hack. Take a lemon and cut it in half. Squeeze the juice from one half onto the problem area and leave it to act. Then wipe the stain with a sponge. After that, use a dry napkin, paper towel or cloth to blot the remaining juice.
Hydrogen peroxide
The recipe is similar to the previous one in the sense that no solutions or mixtures need to be prepared. Hydrogen peroxide will quickly remove stains and cat odour from the fabric. Apply a little product to the contaminated area. After a few minutes, wipe the stain with a clean cloth. However, be careful - hydrogen peroxide can only be used on light surfaces.
Life hack with iodine
Pour 1 litre of water into a container, add 15 drops of iodine and mix thoroughly. Experts say that iodine will also effectively and quickly eliminate an unpleasant odour. Use a sponge to apply the solution to the stain. After waiting 10 minutes, wipe it with a damp cloth.
How lavender can help
To prevent clothes from spoiling, you can apply a few drops of lavender essential oil to the places that your pet tends to mark.
Cats do not like the smell of lavender, so the essential oil will "scare" them away from certain places or things.
Earlier, OBOZREVATEL told what you shouldn't feed your cat.
Subscribe to OBOZREVATEL's Telegram and Viber channels to keep up with the latest news.