Trending:
How to get rid of cat and dog hair on the sofa: tips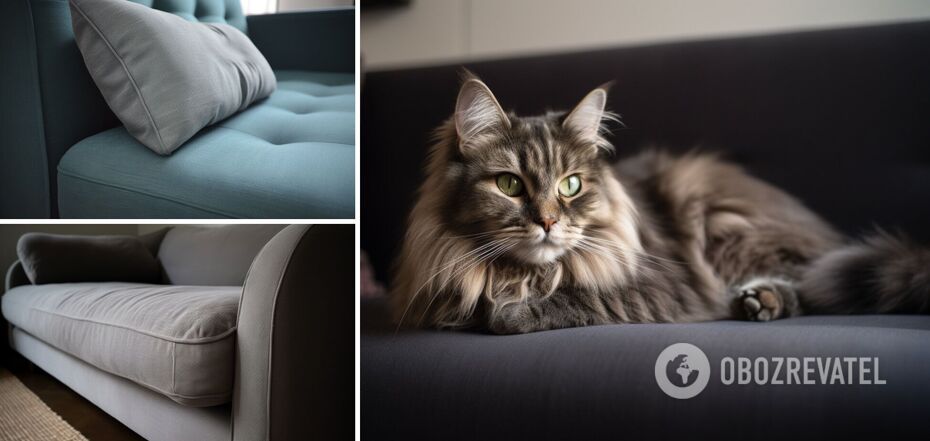 How to remove pet hair on the sofa
Pet hair on furniture is a familiar sight for cat and dog owners. Over time, it accumulates, fills cracks, adheres to upholstery and cushions, floats in the air, and settles on every surface.
Naturally, it's impossible to completely eliminate pet hair if you have a furry friend in your home. The general recommendation is to regularly and thoroughly clean the fibers. Tap into Roxbury provides valuable guidance on how to effectively remove pet hair from your sofa.
Method 1:
The easiest way to remove pet hair from your sofa is to vacuum it. To avoid damaging the fabric, use a gentle handheld vacuum or the special attachment on a regular vacuum. The brush attachment on a vacuum may be too harsh on the fibers.
Method 2:
Special brushes designed for removing pet hair from upholstery are available at pet shops. Follow the instructions carefully, as many brushes are only effective when used in one direction.
Method 3:
A lint roller is an effective tool for removing hair from various surfaces such as sofas, blankets, cushions, or clothes. Alternatively, you can use rubberized gloves to pick up lint.
Method 4:
Use a slightly damp sponge, ensuring it is not overly wet. Gently rub the sofa cushions in one direction until all the pet hair is removed from the surface.
Method 5:
Experts recommend preparing a cleaning solution. Mix fabric softener or fabric conditioner with clean water in a spray bottle, then spray it onto the furniture. Take a small towel or dry sponge and wipe the fabric. This method has a double benefit: it not only removes the hair but also cleans the sofa.
By the way, Persian cats, Ragdolls, and Maine Coons shed the most. However, just because Sphynxes don't have fur doesn't mean they don't shed. Sphynxes shed skin, which can peel off and may even cause allergies. To learn about other cat breeds prone to excessive hair loss, read the article.
Earlier OBOZREVATEL told about what products should not be fed to cats and why veterinarians advise not to mix homemade and store-bought food.
Subscribe to OBOZREVATEL channels on Telegram and Viber to keep up with the latest developments.