Trending:
How to get rid of bark beetles: tricks to save wooden furniture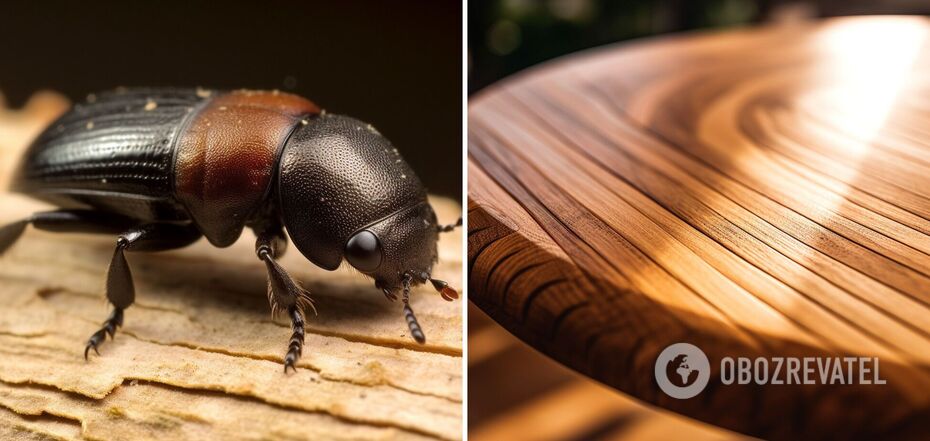 Bark beetles can destroy objects made of natural wood completely
Wood is a pleasant and environmentally friendly material that can be used to make household items and furniture as well as to build entire houses. But one of the main disadvantages of natural wood is that bark beetles like to get into it.
To get rid of these pests, you will need to make some effort. But, as OBOZREVATEL learned, they will pay off with good and durable results.
How dangerous is the bark beetle
The pest is small, no more than 8 mm, and settles in the bark and upper layers of wood. To do so, it gnaws an entrance hole and begins to make passages in the solid wood and lays eggs there. Bark beetle-infested wood becomes increasingly destructive to these insects.
You can recognize the appearance of bark beetles by the bark meal on the surface of the wood - this is a very fine shavings, which are left in the process of life activity of the pests. Also a sign are round holes up to 2 mm in diameter, scattered on the wooden surface. If at least one of these signs appeared on the furniture or walls of the house, you need to act immediately.
The presence of pests makes the wood more brittle and can lead to the complete destruction of the board or log. Usually, to combat bark beetles call specialists. But you can also do away with the pest yourself.
How you can protect wood from bark beetles
To get rid of pest bugs in wood, you will need to treat the infested item or surface with one of these products:
specialized protective impregnations;
special protective coatings;
impregnation with carpentry varnishes, solvents and oils;
application of used machine oil;
Injection of antiseptic solutions into the passages;
application of insecticides - liquid, pyrotechnic and permanent;
freezing and heating at extreme temperatures;
removal of damaged areas;
application of pheromone traps.
How to treat wood against beetles
Before you start treating wood, it is important to keep in mind that bark beetles will have to be controlled until they are completely gone. Including those beetles that later hatch from eggs laid in the wood.
If you find holes in the wood surface indicative of pests, inject special insecticides into these holes. These are sold in syringes and are easy to use. Such a syringe is inserted into the hole and the liquid from it is pumped into the passage until it comes out. After that, the hole is closed with something, such as a match, so that the bugs cannot get out and the composition worked as effectively as possible. After a while, the procedure is repeated to kill new beetles that may hatch from the eggs.
In case of severe damage, the wood will need to be impregnated with a special antiseptic solution, which is applied in several layers. The less dense the wood is, the more such layers should be applied.
When the treatment is finished, the wood is covered with varnish or paint. They form a hard layer on the surface, through which it will be very difficult for the beetles to penetrate.
Previously OBOZREVATEL told how not to spoil the lawn with improper care.
Subscribe to OBOZREVATEL channels in Telegram and Viber to keep up with the latest news.