Trending:
How to get rid of bad foot odor and avoid unpleasant situations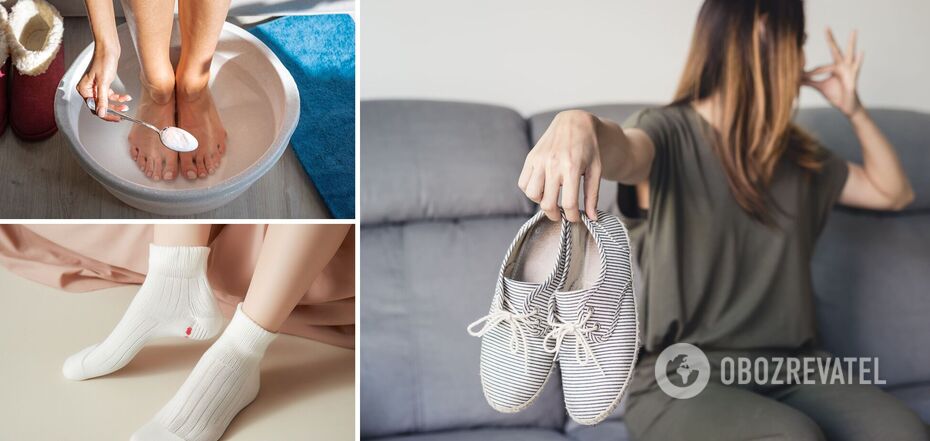 How to get rid of foot odor in summer
Unpleasant foot odor in summer causes a lot of discomfort. Specialists advise regular washing of the feet in a water solution with deodorizing or bactericidal soap, but this method does not always help.
Hyperhidrosis is a state of intense sweating, in which there is a rapid and active reproduction of pathogenic microbes on the feet. How to get rid of bad foot odor and avoid unpleasant situations - read in the material OBOZREVATEL.
Causes of bad foot odor
In addition to hyperhidrosis, doctors distinguish the following causes of unpleasant foot odor:
fungal infections;
metabolic disorders;
hormonal imbalance;
weak immunity;
active sports;
poor hygiene;
wearing dirty socks;
irregular removal of rough skin on the feet;
wearing synthetic shoes;
stress.
There are also a number of diseases that increase sweating, in particular diabetes mellitus, tuberculosis, thyroid diseases, etc. In any case, you should consult a doctor if the problem does not disappear after tweaking the hygiene regimen.
How to get rid of bad foot odor
Tea bath
Boil two black tea bags in one liter of water for about 15 minutes. The solution will be quite rich, so dilute it in two liters of water before taking a bath. Pour the solution into a basin, cool down to an acceptable temperature and keep your feet in it for 20-30 minutes.
Lavender oil
First of all, check if lavender oil causes allergies and irritations. Experts recommend rubbing a few drops of the oil into your feet before bedtime. You can dilute it with water. After rubbing, put on socks made of natural fabric, it is better to choose cotton socks.
Salt bath
Dissolve two cups of salt in five liters of water. Salt foot baths are recommended to be taken daily for at least 15 minutes.
In addition, you can buy foot cream or special talcum powder at the pharmacy, which will absorb sweat well. Instead of talcum powder, you can use cornstarch.
Earlier OBOZREVATEL told how to choose the right summer shoes, so that in it was comfortable and safe to walk.
Subscribe to OBOZREVATEL channels in Telegram, Viber and Threads to keep up to date.