Trending:
How to remove stains from a wooden table without sanding or repainting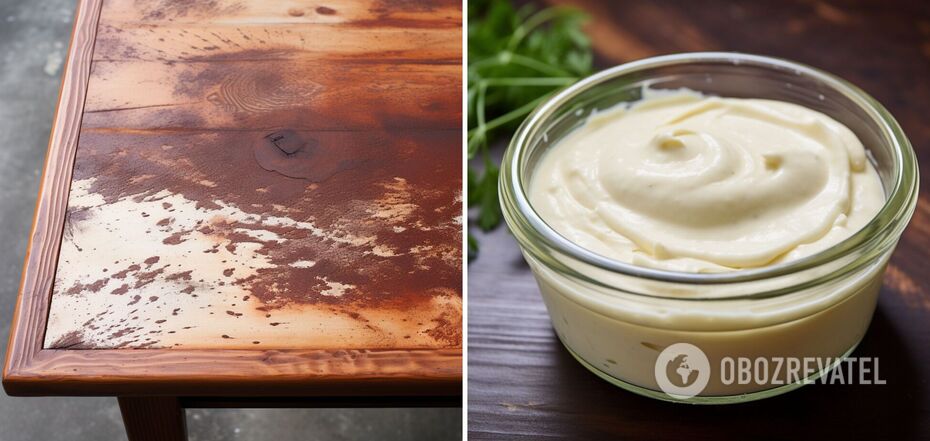 Regular mayonnaise will help to remove stains from a wooden table
Although wooden furniture looks extremely stylish, it still causes a lot of problems. Because of its structure, wood absorbs dirt and stains. Tables are the first to get dirty. In difficult cases, sanding or painting can help the problem but you still want to do it with a minimum of effort.
The Sun collected some proven tips to clean stains from a wooden table. A woman in a specialized cleaning group who said that she left a big stain on the table in her mother-in-law's house and didn't know what to do with it asked for help.
To her surprise, mayonnaise was the first thing that people offered to use. People who have used this method before recommended applying the sauce on the stain, leaving it for 1-2 hours and then removing the residue with a paper towel or thoroughly rubbing the place with a soft cloth.
The secret of this method is that mayonnaise is prepared based on vegetable oil, which is a means that penetrates the fibers of the wood, restores the color of the material and covers it with a protective layer. But the oil itself tends to spread, so thicker mayonnaise will adhere better.
Another tip that users liked turned out to be even simpler. It was recommended to cover the stain with a paper or dry textile towel and iron it a little. This will melt the pollutant under the influence of temperature and the paper or fabric will absorb all the excess dirt.
Earlier OBOZREVATEL shared how to brush off stains and return the shine of wooden doors.
Subscribe to OBOZREVATEL channels on Telegram and Viber to be aware of the latest events.