Trending:
How to fertilize cucumbers in the fall: the harvest will be larger and the plant will be more resilient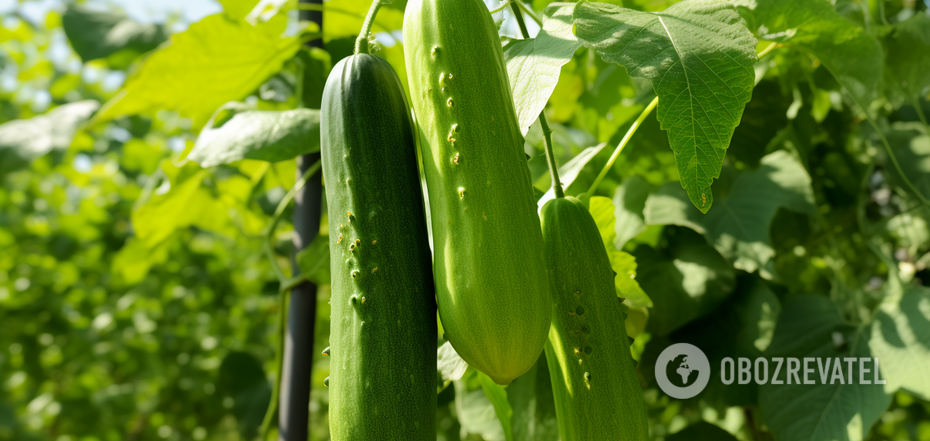 How to fertilize cucumbers
Correct and high-quality fertilization not only contributes to a bountiful harvest, but also boosts immunity. Cucumbers become less vulnerable to pests and diseases.
Organic and mineral fertilizers should be used to make the plants more resilient. How to fertilize cucumbers in the fall and how to apply fertilizers correctly - read the OBOZREVATEL article.
What fertilizers to choose
In the fall, you can use organic matter. For example, compost, humus, or even manure will saturate the soil with useful organic matter and help improve its acidity and structure.
Nitrogen, phosphorus, potassium and other mineral fertilizers are necessary for the quality growth and development of plants.
Root or foliar feeding
Experienced gardeners emphasize the need for comprehensive fertilization, both foliar and root.
Root fertilizers can be applied by watering or using granular fertilizers that are scattered around the root system. In this case, the nutrients are delivered directly to the soil.
With foliar fertilization, the plants are sprayed with fertilizers, so that cucumbers quickly receive and absorb nutrients.
Autumn fertilization
The first thing to consider when fertilizing cucumbers is weather conditions. In cloudy, humid September weather, leaf solutions will be more effective.
And during the warm and dry Indian summer, you can apply fertilizers to the soil, because the root system quickly absorbs nutrients.
How to fertilize during fruiting
It is especially important to fertilize cucumbers during the period of active fruiting. Potassium nitrate fertilizer can accelerate fruit formation. With excessive growth, cucumbers can lose their nutritional and flavor properties. However, potassium nitrate is a fertilizer that will not stimulate growth, but will directly affect the quality of the fruit. Let's move on to the proportions: gardeners advise taking 25 g of fertilizer per 15 liters of water.
An iodine solution will be equally effective in protecting against pests and diseases. Dilute 30-40 drops of iodine in one liter of water - no more, otherwise the plant may get burned. Spray with iodine solution every 3 weeks before harvesting.
Earlier, OBOZREVATEL told you how to extend the cucumber harvest in September.
Subscribe to OBOZREVATEL's Telegram and Viber channels to keep up to date with the latest developments.