Trending:
How to feed apple trees in the fall so that they easily withstand the winter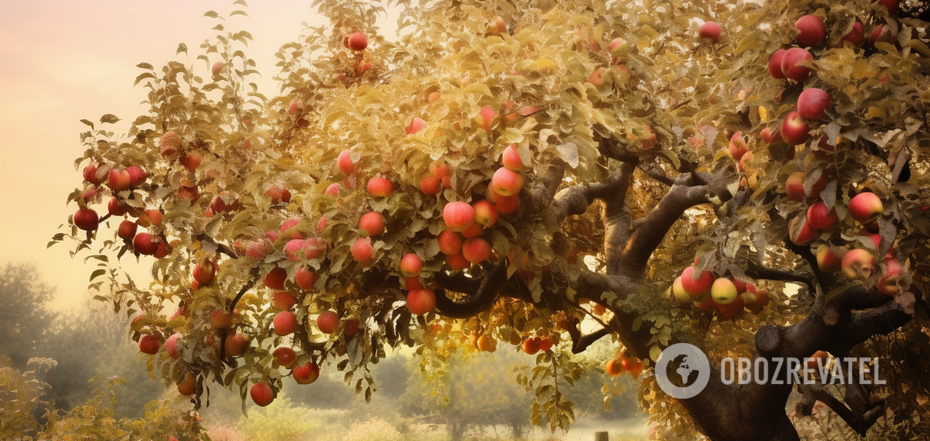 Apple trees in the autumn garden
It would seem that the active season for gardeners and vegetable growers has ended with the harvest. However, a cold winter is ahead, and trees need strength to survive it. So don't forget about autumn fertilization, which will benefit and protect the garden from prolonged frosts.
Fertilizing will help increase the yield next year and increase the resistance of fruit trees to cold weather. Read the OBOZREVATEL article on how to fertilize apple trees in the fall so that they can easily withstand the winter.
How to fertilize apple trees in the fall
After the harvest, apple trees need mineral fertilizers. In September, you can apply potassium sulfate fertilizers to help the young branches strengthen the bark to make it easier to withstand frost.
Nitrate and nitrogen-phosphorus fertilizers are called ideal for apple trees, but not in the fall. Nitrogen fertilization should be postponed until spring. It is best to apply them in April after whitewashing the trunks so that the tree will grow faster and form a lush green mass.
How to fertilize apple tree in the fall
Autumn fertilization is added to the trunk circle, as organic and mineral fertilizers can burn the apple roots.
For trees that have been bearing fruit for several years, you need to add fertilizer to the dug holes around the perimeter of the crown. Lime or chalk will help reduce the high acidity of the soil: it is enough to add 400 grams for one tree.
After fertilizing, it is recommended to mulch the trunk circle with organic matter like compost or humus. However, columnar apple trees do not need to be fertilized in the fall.
Fertilization calendar
September.
In September, you can fertilize apple trees with one of the following fertilizers:
potassium sulfate: 30 g of fertilizer is required per 1 square meter;
potassium monophosphate: 15 g of the product is diluted in 10 liters of water;
complex autumn fertilizer: the dosage is applied according to the recommendations on the label.
October.
You can fertilize apple trees in the first week of October. However, fertilization is stopped from the middle of the month. At this time, it is useful to water the trees to saturate the root system with enough water. In October, the trunk circle is also mulched with compost or humus. In the spring, this mulch will become an additional fertilizer.
By the way, in order for apples not to lose their taste and useful properties for as long as possible, you need to prepare the place and container for storage. To know what should be put in the box to keep apples all winter, read the article.
OBOZREVATEL also shared how to clean the entire garden in the fall and what to do before the leaves fall.
Subscribe to OBOZREVATEL on Telegram and Viber to keep up with the latest news.