Trending:
How to fall asleep easily on a plane: 5 life hacks to make air travel more comfortable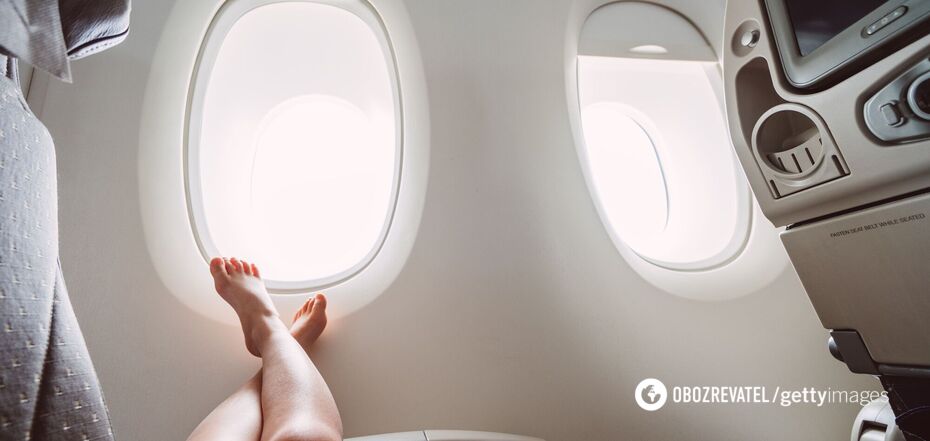 Sitting by the window on a plane is more comfortable
Air travel can often be uncomfortable, especially when it comes to long flights and sleeping on the plane. Changing time zones, pressure drops and limited seat space are stressful for the body.
Experienced travellers know how to ensure comfort on board. OBOZREVATEL has collected life hacks that will help you fall asleep to relax before arriving at your destination.
Ensure comfortable conditions
Before you go to bed, make sure you have created a comfortable environment for relaxation. Open the top vent to allow fresh air to flow in. Also use a neck pillow, sleep mask, earplugs or noise-cancelling headphones. Instead of a pillow, you can use a large scarf, tie it around your neck, or cover yourself with a blanket. Some passengers take sleeping pills, melatonin tablets, and chewing gum.
Choose comfortable sleepwear that does not constrict your body or hinder your movements. Loosening the laces of your sneakers before going to bed will prevent pinched nerves. Passengers are less likely to fall asleep if their blood circulation is restricted.
The choice of drink plays an important role in ensuring a good night's sleep. It is better to choose plain water or herbal tea. Alcohol, coffee, and sugary soda should be avoided. These types of drinks dehydrate the body and guarantee frequent trips to the toilet.
Choosing a seat and posture
Although choosing a specific seat for a flight may seem like an expensive whim, choosing the right seat is key to helping passengers fall asleep. It is always best to avoid sitting near the toilets, as there is usually a lot of noise from the doors. The best place to sit is by a window, as you can lean against a hard surface and close the curtain to block out sunlight.
Do not cross your legs, as blood circulation will also be impaired. All your belongings should be placed on the hand luggage shelf to make sure you have as much space as possible.
Use relaxation techniques
Using relaxation techniques at bedtime will help you to stay calm. Try different breathing techniques, meditation, or calm music to relax and prepare for sleep.
Earlier, OBOZREVATEL wrote how to get seats next to each other on a plane without paying extra. The flight attendant shared a few secrets that will help you save money.
Only verified information is available on our Obozrevatel Telegram channel, Threads and Viber. Don't fall for fakes!