Trending:
How to edit or delete an already sent message on iPhone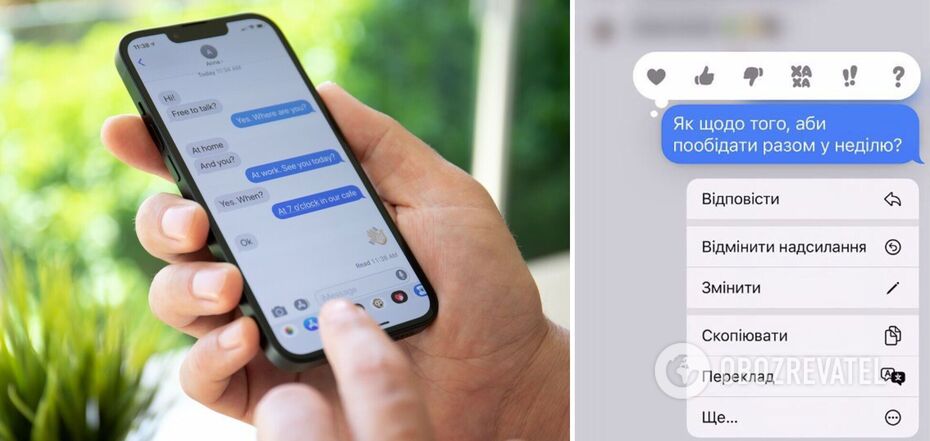 Now you can even delete a message you've already sent
The latest update of Apple's iOS operating system to version 16 has many interesting features. But one of the most interesting was the update to the Messages app, which now allows you to edit and delete already sent messages.
OBOZREVATEL explains how to use the new feature and how to set up sending iMessages on iPhoine.
What is the difference between regular messages and iMessage?
iMessage is an instant messaging service that works exclusively on Apple devices, including iPhone, iPad and Mac. Messages are sent over an internet connection, Wi-Fi, or mobile data. You can send text, photos, or videos. It's pretty much the same as sending an SMS or MMS.
However, there is a significant difference. Apple uses an end-to-end encryption system to send iMessages. This means that your messages cannot be decrypted by devices from other manufacturers. That's why you can't send iMessages to Android smartphones.
Visually, you can also tell the difference between a regular SMS and an iMessage: in the Messages app, the former is highlighted in green and the latter in blue. So you can never make a mistake.
How to set up iMessage
Setting up iMessage is pretty straightforward. Here's what you need to do:
open Settings;
go to Messages;
switch on iMessage.
You will also need to enter the phone number and email address that will be used to send iMessages. To do this:
open Settings;
go to Messages;
open Send/Receive;
select the desired option or options in the section You can receive iMessages and reply from.
If you use iCloud, you can also sync Messages so you can access sent and received iMessages on any device with the same Apple ID.
How to edit and delete sent iMessages
If you misspelled a word or sent a message to the wrong contact, there's no need to panic. Just correct the mistake or delete the message. But hurry up - you can edit a message no later than 15 minutes later, and delete it within 2 minutes.
To edit a message, simply hold down the message and select Edit from the list of options. This will bring up the text box again and allow you to correct the mistake. But be careful not to make new mistakes - you can only correct a message 5 times.
You should also note that if the recipient is also using iOS 16, the message will be displayed with a label Edited. By clicking on this label, they will be able to see the history of edits.
Users of older versions of iOS will receive another message with the corrected text.
So sometimes, it's probably best to delete the message. To do this, just like with editing, you'll need to hold down the message and select Undo Send from the drop-down menu. After that, a line of text will remain in the conversation, notifying you that the message has been deleted.
Earlier, OBOZREVATEL also told how to turn on a secret feature on your iPhone that will help improve your sleep.
Subscribe to OBOZREVATEL's Telegram and Viber channels to keep up with the latest news.