Trending:
How to eat sushi: etiquette rules that not everyone knows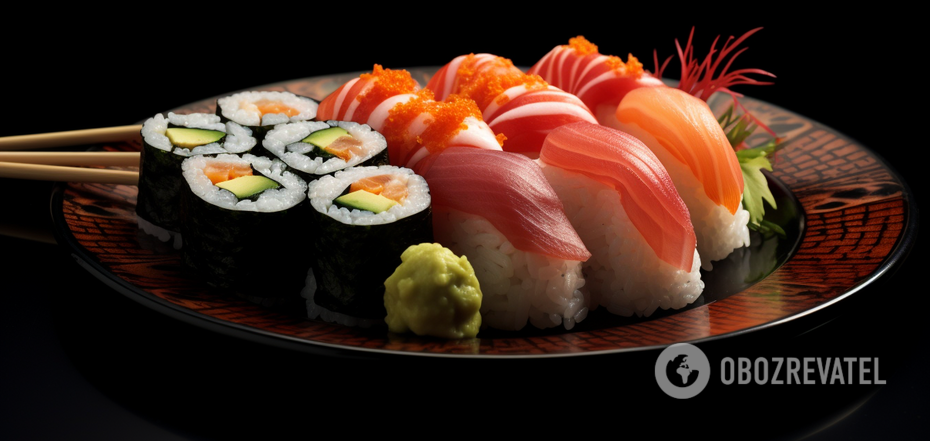 How to eat sushi correctly
Sushi is an incredibly delicious delicacy, a favorite dish of many. However, not all Ukrainians know about the real Japanese culture of eating this dish. For example, many do not know how to use chopsticks, but are embarrassed to ask for a fork. Experts note: it is quite normal to eat sushi with a fork, it will not be a gross violation of etiquette rules.
But rubbing chopsticks against each other is not recommended. Chefs and experts of Japanese culture explained how to eat sushi correctly, when to immerse it in soy sauce and whether it is possible to put ginger on top of fish.
Why you can't rub chopsticks
Kazunori Nozawa, co-founder of Sugafish restaurants, talked about a few important rules regarding Japanese food etiquette.
The first rule is that after separating the chopsticks, you should never rub them against each other. This is considered a sign of impoliteness and disrespect.
Is it possible to eat sushi with your hands
Naturally, sushi should preferably be eaten with chopsticks. But don't worry if you don't know how to use them. Kazunori emphasized that it is quite acceptable practice to ask the restaurant to bring you a fork.
Eating sushi should be done as soon as it is brought to you - this is important so that the fish and nori do not lose their delicate texture.
Wasabi rules
Not all types of sushi harmonize with spicy wasabi. If you like to add wasabi to soy sauce, it is better to ask for another saucer of sauce without wasabi.
Where to put the ginger
Chef notes: never put ginger on sushi. Ginger is meant to cleanse the flavor in your mouth between courses. It can ruin the flavor of the sushi.
How to dip in soy sauce
If the sushi is already seasoned with sauce (e.g. unagi), it should not be dipped in soy sauce. When using nigiri, the rice, not the fish, is dipped into the sauce, and not much at all. This type of sushi should be put in your mouth immediately, without biting off.
If you order a handroll, take a bite, flip it over and take a bite from the other side. This way, according to Kazunori, the roll won't fall apart.
Andrea Fazzari, author of books on Japanese culture, and Tetsuya Hanada, founder and director of Sushi University, advise using a little soy sauce so as not to spoil the experience and enjoy the food. But there are also practical motives: rice absorbs liquid very quickly - if you dip the whole roll in the sauce, a piece will disintegrate.
Sometimes in Japanese restaurants, green paste made of perilla leaves is added to the plates. It can be served as a garnish, but note that the paste leaves a strong flavor in the mouth, which can spoil the impression of the delicate texture of the fish.
Order of eating
Experts say that there is no specific order of eating dishes - eat as you like. Of course, the sweet taste of anago (eel) and tamagoyaki (egg roll) can be left for last.
Table etiquette
Tetsuya Hanada notes that in a Japanese restaurant, you should not put your phone on the table. Quality establishments choose authentic Japanese furnishings, such as cypress tables. They are not cheap, so it is better to put your smartphone on a napkin.
If you accidentally spill soy sauce, do not clean it up yourself - call a waiter.
Previously, OBOZREVATEL told how to properly hold glasses with drinks during parties.
Subscribe to OBOZREVATEL channels in Telegram and Viber to be aware of the latest events.