Trending:
How to dry an umbrella correctly: rules of etiquette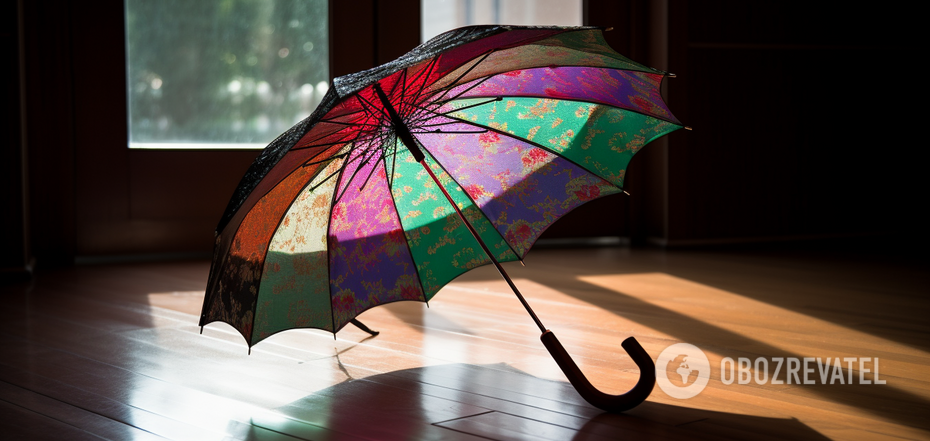 How to dry an umbrella
There are rules in etiquette that many people don't even realize - for example, how to dry an umbrella properly. It would seem that the algorithm is simple: open a wet umbrella on the floor and wait for it to dry. However, there are many nuances.
OBOZREVATEL understood how to properly dry an umbrella in the office, in the guests, in the theater or in a restaurant. In European countries, by the way, wet umbrellas are usually just thrown on the floor right on the doorstep.
How not advised to dry an umbrella
Improper drying will damage the fabric and dome. The material will start to sag and lose its properties.
The umbrella is impregnated with special hydrophobic agents that repel moisture. When drying in the open, the fabric will sag under its own weight and stretch - this will reduce the protective properties.
Specialists advise to dry the umbrella in a partially open position - so the material will retain its strength and hydrophobic properties.
There are three basic rules for drying an umbrella:
You should not dry an umbrella in the sun - the sun's rays can cause fading and discoloration.
You should not put a wet umbrella on a shelf or in a case in a folded form - mold can appear on the material.
Do not keep the umbrella near heaters and radiators.
How to dry an umbrella
The umbrella can be hung on a hook, door handle or hanger. The material should be ventilated from all sides.
The only exception is products with metal spokes. They need to be completely opened and left in this form for 20-30 minutes.
Dry the umbrella to the end to prevent the appearance of mold, musty odor and stains.
Rules for official events
According to the rules of etiquette, coming to a guest, you should ask the hosts where to put the wet umbrella.
In the office, this should be asked from the interlocutor or at the reception, in the restaurant - from the waiter or manager, and in the theater - from the administrator or staff.
Usually in offices there is a special counter where you can put umbrellas.
Earlier OBOZREVATEL told about the rules of restaurant etiquette, which will not feel uncultured at the table.
Subscribe to OBOZREVATEL channels in Telegram, Viber and Threads to be aware of the latest events.