Trending:
How to double your potato harvest: a secret remedy will help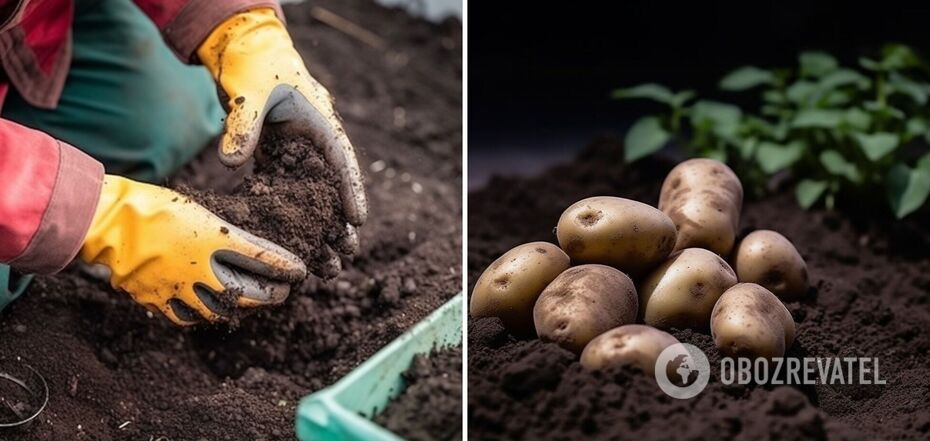 What and when to feed potatoes and when to feed them
The potato harvest depends on many factors. During the flowering period, the bushes need moisture, so dry weather can negatively affect the number of sprouted potatoes.
If you choose the right variety and planting period, already in July you can get tasty young tubers. Among the best varieties stand out belarose, picasso, red scarlet, riviera, constant and granada. OBOZREVATEL picked up effective tips that will help to increase the harvest twice.
Favorable weather for planting should be at least a week. Let the soil warm up to at least +7 ° C. During the day, the thermometer columns should show +10+12 ° C, at night - at least +5 ° C. Forecasters say that in 2023 such weather will be established after April 15, so earlier to plant potatoes is definitely not worth it.
Experts say that potatoes are very demanding to the level of soil moisture. Dry and hot weather in early summer can significantly spoil the harvest if the appropriate measures are not taken in time. From the stage of bud emergence and throughout the entire period of haulm growth, potatoes require increased watering. It is better to water the bushes in the evening. Under each bush pour at least three liters of water.
Sandy and sandy loam soils require more watering, soils made of loam or peat - less.
If there is no severe drought and the soil is sufficiently moistened by rains, you do not need to water the potatoes additionally. Simply loosening the soil to improve air flow is sufficient.
It is recommended to feed potatoes as soon as buds begin to form. You can mix 3 tablespoons of wood ash and 1 teaspoon of potassium sulfate.
By the way, there is an opinion among the people that you can feed potatoes with yeast infusions. However, experts say that in fact they do not bring any benefit, but can reduce the stock of nutrients in the ground - sodium or calcium. And if you decide to use manure, then pay attention that for fertilizer is suitable only the one that has been lying for a certain time - a year or two.
Earlier OBOZREVATEL told how to plant potatoes according to the method of Fokin and whether it is useful to cut it into two parts.
Subscribe to OBOZREVATEL channels in Telegram and Viber to be aware of the latest events.