Trending:
How to cook delicious chicken wings with crispy crust: a simple recipe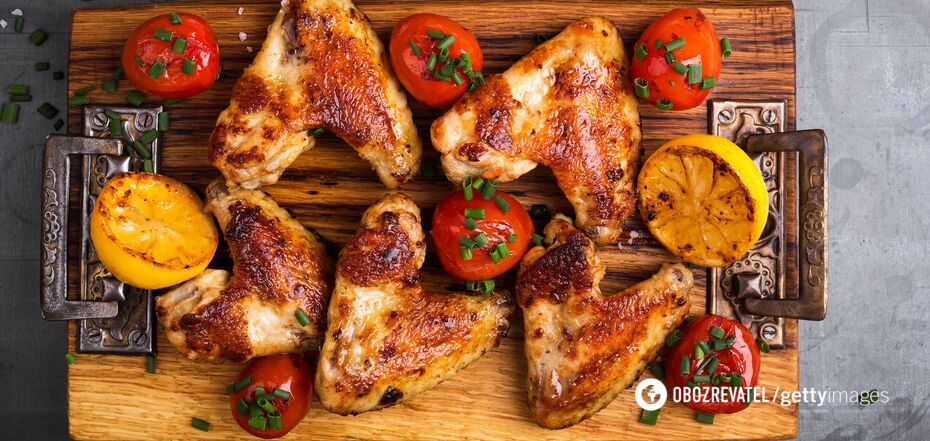 Chicken wings
Chicken wings are perfect for baking, making soups, and stewing. They can also be nicely stewed, fried, and baked on the grill and in the oven.
Cook Irina shared a recipe on Instagram for delicious chicken wings with soy sauce, ketchup and honey.
Ingredients:
chicken wings - 500 g
ketchup - 3 tbsp.
honey - 2 tbsp.
soy sauce - 3 tbsp.
garlic - 2-3 cloves
vegetable oil - 2 tbsp.
salt, pepper - to taste
green onion
sesame
Method of preparation:
1. Cut the chicken wings if necessary, sprinkle with salt and pepper and leave for 10 minutes.
2. Pour oil into a frying pan and fry until golden brown on both sides.
3. Add chopped garlic and stir-fry for 1 to 2 minutes. Add ketchup, soy sauce and honey. Stir and stew for 7-10 minutes over low heat, turning the wings a few times.
4. Sprinkle chopped green onions and sesame seeds over the finished wings.
Also on OBOZREVATEL you can read the recipes:
<a href="https://food.obozrevatel.com/osnovnyie-blyuda/kryilyishki-v-rukave.htm" target="_blank">Wings in the sleeve</a>
<a href="https://food.obozrevatel.com/osnovnyie-blyuda/kryilyishki-s-kartoshkoj-v-duhovke.htm" target="_blank">Wings with potatoes in the oven</a>