Trending:
How to clean yellow deposits on dishes: recommendations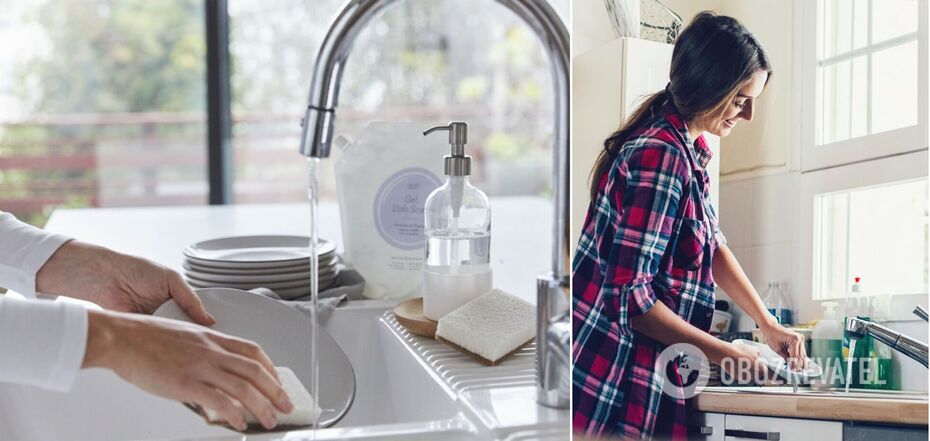 How to clean yellow plaque on plates and cups
Often after washing, yellow deposits appear on cups and plates. You can buy store cleaning products, but, firstly, they have an aggressive chemical composition, and secondly, they are not very environmentally friendly.
Experienced housewives know that with the help of simple ingredients - baking soda, citric acid or even mustard you can wash dishes to a shine. OBOZREVATEL has selected the most effective recipes.
How soda will help
Soda is an all-purpose cleaner, and in order to clean plates and cups from yellow deposits, you will need a soaking procedure. Take a large container - a bowl or a pot. Put the dishes in it, add hot water and baking soda. The ideal proportion is 1:3 - for 1 liter of water - 3 tablespoons of soda.
Soak the dishes for at least an hour. Then you should wash it in the usual way.
Lifehack with citric acid
Take citric acid and rub it thoroughly on the dirty dishes. Leave it for 20 minutes and then rinse in warm water. Hot water should not be used so that the plates and cups do not tarnish.
A little-known mustard trick
Experienced housewives know that mustard also copes with yellow plaque. It is necessary to make a solution - mix a few spoons of mustard and water. In a deep container, put the dishes and pour it with the mixture. After about an hour, the dishes can be washed in warm water.
Soda and hydrogen peroxide
This is a radical method, which is suitable for heavy soiling. Mix baking soda and hydrogen peroxide in a 1:1 ratio. Rub the mixture on the yellow surfaces of the dishes with a sponge, and then rinse abundantly with water.
Lifehack from store remedies
If you still like store-bought remedies, take laundry detergent and dry bleach, mixing them in equal proportions. Then you should pour the mixture into a container with hot water. Place the dishes in the solution and soak for 3 hours, after which rinse and wash it in the usual way.
Earlier OBOZREVATEL told how to wash outdated grease on the oven door.
Subscribe to OBOZREVATEL channels in Telegram and Viber to keep up to date.