Trending:
How to clean wooden furniture: dirt and stains disappear before your eyes with a simple method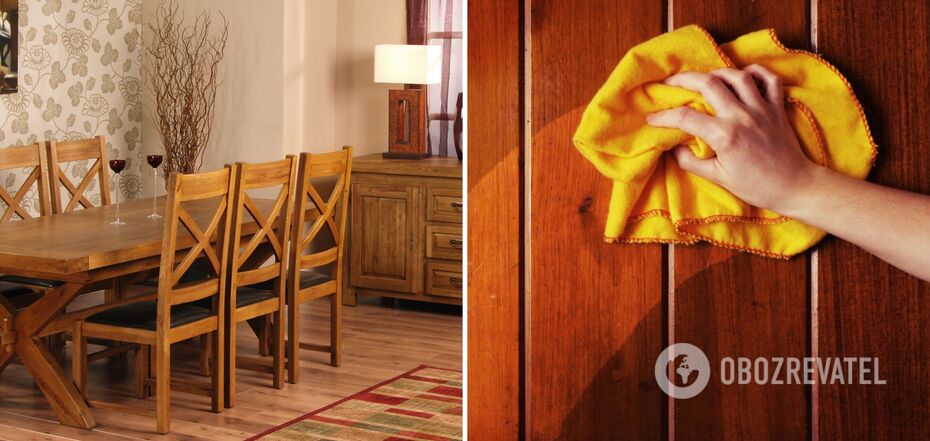 How to clean wooden surfaces
Wooden furniture tends to accumulate a lot of dust. Lifehacks for using natural ingredients can help clean even the oldest dirt on tables and cabinets.
Instead of using chemicals that will only ruin the furniture, adding soap can solve a lot of problems. The details were told by the publication Sante Plus.
Soap lifehack
It should be noted that there are several types of wood with their different characteristics. For optimal cleaning, a product adapted to each type of wood should be used. A bar of soap can even help clean wood surfaces and remove stubborn stains.
For example, black soap is ideal for untreated wood furniture.
Experts suggest diluting a tablespoon of liquid black soap in 1 liter of hot water. Then take a soft-bristled brush or a microfiber cloth. Thoroughly and gently scrub the furniture and rinse it with a damp cloth.
Another simple recipe will clean your furniture instantly and without chemicals. You only need to rub soap on the furniture or wooden door. This, by the way, will help save surfaces from pets. Cats or dogs will give up the habit of scratching with their claws or chewing on wooden surfaces.
Lifehack with baking soda
For varnished surfaces, you can use baking soda. Pour warm water into a container and add 1 cup of baking soda. Mix the solution. After that, take a sponge, soak it in the mixture and wipe the wooden furniture. Finally, you should wipe the surfaces with a microfiber cloth.
Lifehack with lemon
If your furniture is very dirty, use a baking soda and lemon lifehack. First, experts advise cutting a lemon in half and rubbing it on the wood. While the acid is working, prepare a special paste. 2 tablespoons of baking soda mix with warm water until the formation of "porridge". The mixture should be applied to the most contaminated areas on top of the citric acid and wipe with a sponge. Then rinse with clean water and leave to dry.
Earlier OBOZREVATEL told how to clean the countertop from grease and unpleasant odor.
Subscribe to OBOZREVATEL channels in Telegram and Viber to be aware of the latest events.