Trending:
How to clean windows from the street with high quality: A way to make life easier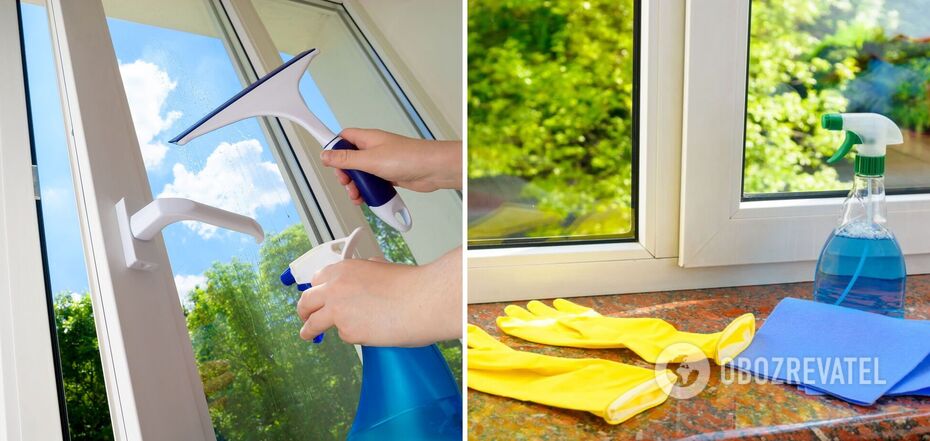 How and with what to clean windows
In the summer Ukrainians are used to doing a general cleaning. They tidy up not only the house but also the street, not forgetting to wash the windows.
Some products should not be used for window cleaning, such as soda, solvents, abrasives, pure alcohol and products containing petrol. OBOZREVATEL figured out how to wash windows from the street and when to start cleaning.
The easiest way to wash windows is to use a store-bought glass cleaner and microfibre cloths. Soak the first napkin in water and wash off the layer of dirt and dust accumulated over the winter. Next, wash the glass with a special product. Use the second dry cloth to wipe the windows again.
If you live in a high-rise building on the upper floors and are afraid of heights or are simply concerned about your safety, you can use magnetic sponges to clean windows. This is a modern cleaning tool that will greatly facilitate the process of cleaning glass. You can buy a special sponge with a long handle. First, you should wash the windows from the inside, so street dirt will be noticeably better removed.
The most favourable weather for washing windows comes in April. At this time, there is usually no snow left on the roofs, which can drip down and contaminate the glass again.
It's worth noting that there is one very useful and effective life hack for cleaning windows. You will need vinegar, a paper towel and a newspaper. First, clean the glass from dust by wiping it with a paper towel. Then take a spray bottle and make a simple solution. Pour water and white vinegar 2:1. It is important to use white vinegar because it leaves no residue. The acids in the vinegar will quickly break down dirt and oil stains on the glass. The rigid structure of the newspaper will help wipe the glass without streaks. Crumpled pieces of paper will leave lint and streaks. As an alternative, you can take a microfibre cloth.
Earlier, OBOZREVATEL talked about three cheap life hacks for cleaning windows.
Subscribe to OBOZREVATEL's Telegram and Viber channels to keep up with the latest news.