Trending:
How to clean white sneakers at home: cheap and effective remedies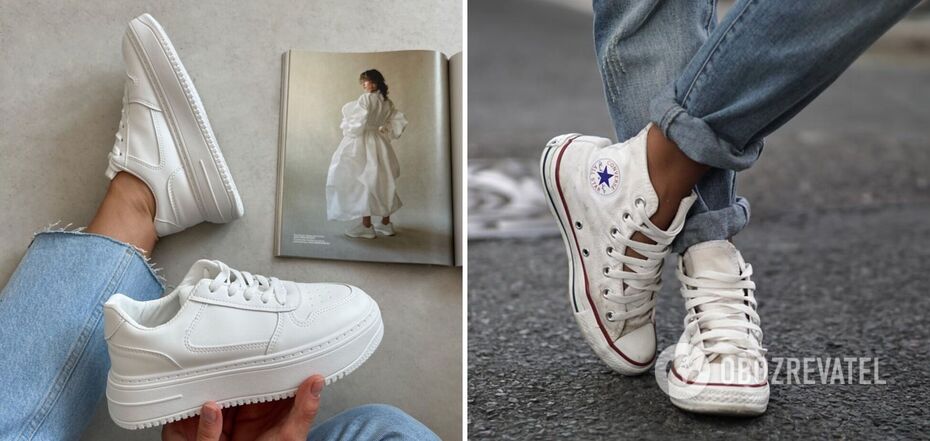 What to wash white sneakers
White sneakers - a universal shoe that will fit under any clothes. They perfectly harmonize with both a light summer dress and jeans in a casual style.
However, to make white sneakers always look clean and tidy, you need to try. These shoes require careful care. How to return the sneakers linen at home, read in the material OBOZREVATEL.
Lifehacks to clean stains on white sneakers
Ordinary laundry soap works well with dirt on white shoes. Make a soap solution and scrub the stains thoroughly with a brush.
Textile sneakers can be washed with the help of oxygen-based bleaches. The remedy should be applied to the most soiled places, leave for a few minutes and rinse.
Experts advise using a makeup remover. A small amount should be applied to a cotton pad, and then wash the sneakers in warm water.
White leather sneakers
Leather can be cleaned with ammonia mixed with washing powder. This product should be used carefully, applying to the shoes with a damp sponge.
Again, a solution of laundry soap will do - it is advised to leave the sneakers in it for at least 20 minutes.
Among folk methods is popular mixture of egg and milk. It is said that sneakers will shine like new, if you rub the skin with egg and milk solution, and then wash in the usual way.
Of course, specialty stores have professional care products, such as sprays or stain remover wipes. But they sometimes cost too much.
How to wash away yellowing
Toothpaste will help to cope with yellowing on white shoes. You should brush over the soiled areas.
In addition, you can soak your sneakers in water diluted with lemon juice or use ordinary bleach.
Sneakers made of suede
Before cleaning, take a dry suede brush and lift the pile.
Stains on suede are recommended to be cleaned with a stationery eraser. You can also use cleaning foam. It should be left on the suede for 10 minutes, and then wipe it off with a dry cloth.
A solution of soap and a small amount of ammonia will help to get rid of outdated stains.
How to wash fabric white sneakers
Too hot water is not desirable when washing sneakers. The shoes may lose their shape. And in cold temperatures, stains may not come off.
When washing textile sneakers in the machine, choose a delicate mode, do not use chlorinated bleach and turn off the spin mode. Such sneakers are better to dry naturally.
If you decide to wash manually fabric shoes, you can mix vinegar with baking soda. The applied mixture is advised to wash off with warm water after it is sufficiently absorbed.
Toothpaste (white, without impurities) is suitable for cleaning dirty soles.
More experts suggest mixing laundry detergent, vinegar and hydrogen peroxide and using a brush to scrub white sneakers.
Earlier OBOZREVATEL told than to wash white socks.
Subscribe to OBOZREVATEL channels in Telegram and Viber to be aware of the latest events.