Trending:
How to clean white plastic chairs: the most effective remedies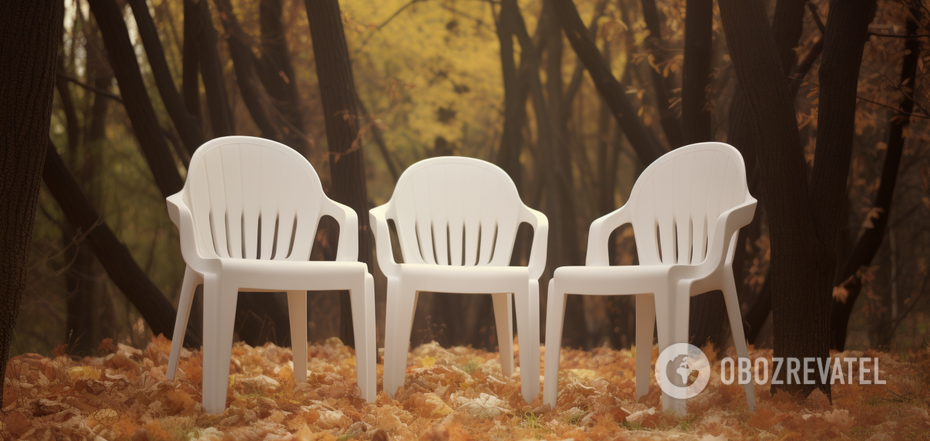 Chairs should be put into storage after thorough cleaning
September is the time to prepare the dacha for winter, in particular to clean and hide garden furniture. White plastic chairs need special attention, as they may have gotten a lot of stains over the summer.
According to experienced gardeners, a lot of effort to return them to their pristine appearance will not be needed. Only the right means are needed. OBOZREVATEL tells you about the best DIY tips on how to clean white plastic garden chairs.
White vinegar - cleaning and disinfection
This remedy removes stains from plastic without damaging it. To make the vinegar work better, it should be diluted in equal proportions with warm water. Apply the mixture is better with a cloth or sponge - the tool should be soft, so as not to scratch the material. If necessary, the liquid can be left to act for a few minutes. In addition to cleaning, white vinegar will also sanitize the chairs.
Baking soda against stains
An additional function of baking soda is to remove extraneous odors, which is important if, say, the chair was used in a place where a lot of smoking took place. At the same time, it is a mild enough abrasive to not scratch the plastic during cleaning. To remove stains from the chair with baking soda, prepare a paste from it, gradually mixing the remedy with a small amount of water until you get the desired consistency. This paste should be applied to the contaminated area and left for a few minutes, then gently rub it on the surface and wash off the residue.
Lemon from mold
If your chairs have mold or mildew spots on them, which is possible if it has been a rainy summer or the garden furniture has been standing in a damp place, lemon juice may be the solution. Simply take a fresh lemon, cut it open and squeeze the juice onto the affected areas. After a few minutes, all that will be left is to wipe them clean of the juice with a paper towel and rinse with water.
Why do I need to wipe the chairs after washing them?
Whether you choose one of the products listed for specific problems or the standard soap for such cases, you should wipe the chairs dry after washing. First of all, so that hard water does not stain them. Also, water droplets can act as a lens and increase the effect of sunlight on the plastic, which can cause it to yellow. And such stains are much more difficult to deal with.
Earlier OBOZREVATEL told how to clean the powder tray of the washing machine - in it can breed mold.
Subscribe to OBOZREVATEL channels in Telegram and Viber to be aware of the latest events.