Trending:
How to clean wallpaper from yellow stains and smoke residue: tips and tricks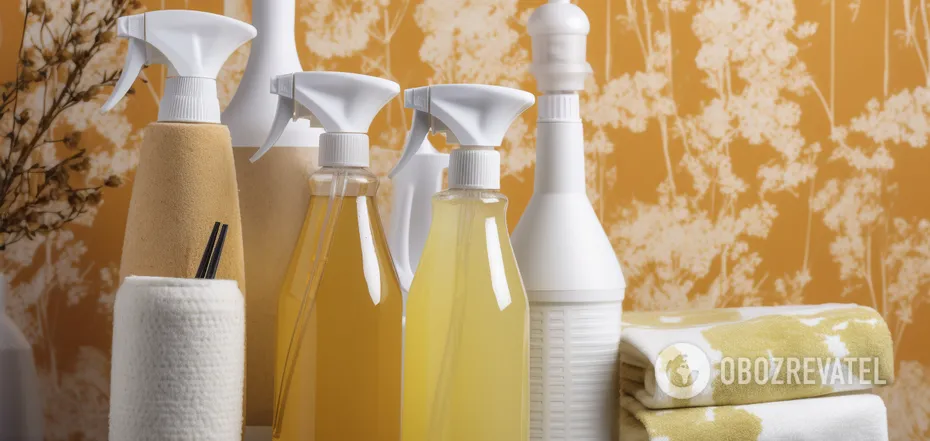 Wallpaper cleaning products can be made with your own hands
Over time, yellow stains and smoke marks will appear on the wallpaper. If you still have the instructions, be sure to check the pictograms: one wave means that the wallpaper is resistant to moisture, i.e. it can be washed with a damp cloth, two waves - it can be washed with a soap solution and a sponge, three waves mean high water resistance.
Paper wallpaper can be cleaned only with a dry brush, non-rippled vinyl wallpaper can be wiped with a sponge and detergents. OBOZREVATEL has collected the best tips that will help to clean different types of wallpaper.
Washing wallpaper depending on the type
Single-ply paper wallpaper can only be cleaned with a dry brush. For double-layer wallpapers, a sponge lightly moistened with water can be used with care.
Single-layer fleece wallpaper has a strong structure and can be easily cleaned with a cloth.
Foam or embossed vinyl, textiles or bamboo should be cleaned with care, it is better to use a vacuum cleaner.
Dry cleaning is recommended for corrugated vinyl surfaces. Hot embossed vinyl can even be rubbed with a brush and almost all detergents can be used.
How to clean yellowing
Citric acid, vinegar, salt
Acids will clean wallpaper effectively and quickly. Citric acid is good for nicotine and grease. It is recommended to dilute it in water and use a sponge to wipe the wallpaper.
If there is glue on the wallpaper, use white vinegar. It is applied to the stain and washed off after five minutes of waiting.
Salt will help to cope with stains such as brilliant green.
Alcohol
Alcohol will help to clean wallpaper from:
markers
fruit juice
red wine.
You need to soak a cotton pad in alcohol and wipe the stain until it disappears.
Soda
Dilute baking soda with water to a paste-like state, apply it to the stain and leave it for 30 minutes. After that, you should wipe off the soda and rinse the spot with water.
Peroxide
Peroxide will remove stains from blood or red wine or juice. Please note: peroxide lightens the material, so it is advised to use it only on white wallpaper.
Cleaning experts suggest soaking a rag in peroxide, rubbing the stain and rinsing with clean water.
Soap
Household or decorative soap will remove a light yellow patina and return the wallpaper shine. Pour water into a container and add soap in a ratio of 1:10. It is better to grate hard soap beforehand. Wipe the wallpaper with a coat and wipe with a dry cloth.
Earlier OBOZREVATEL told about 13 ideas of application of rolls and scraps, which will make your interior even brighter and more original.
Subscribe to OBOZREVATEL channels in Telegram and Viber to be aware of the latest events.