Trending:
How to clean very old saucepans: a "magical" lifehack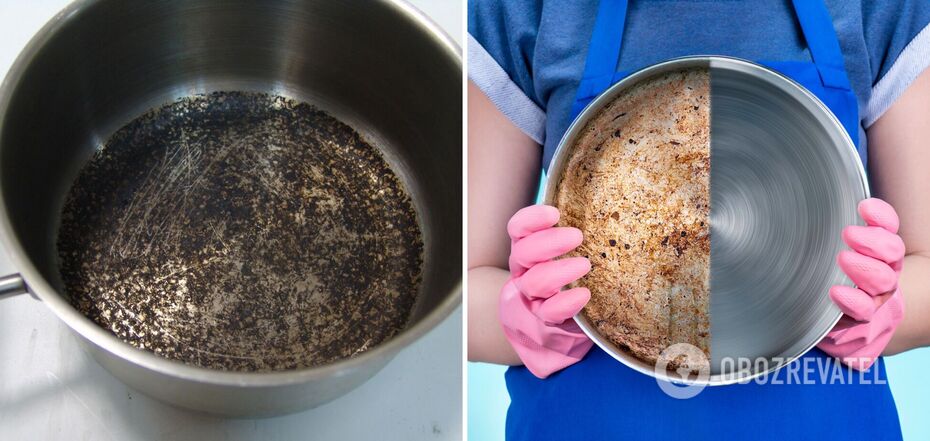 An effective way to remove the soot from old pans
Old saucepans often get soot on them, which is difficult to clean using conventional methods. Burnt fat, dirt and food residue create a layer of black soot both inside and outside the pot, so sometimes housewives, not knowing how to clean it, have to throw the pots to the dump.
But there is one effective flyhack, which is still used by our grandmothers. How to clean very old pots, was analyzed by OBOZREVATEL.
It is necessary to take:
a large container (for example, a bucket)
4 liters of water
laundry soap
silicate glue
baking soda
In a ten-liter bucket or other large container you should fill 4 liters of water and put it on the fire. Put the pot inside, which needs to be cleaned. While the water heats up, you need to rub laundry soap (1/2 bar) and pour silicate glue into the glass. As soon as the water begins to boil, add the chips and glue to it.
Soda will enhance the cleaning effect. Suitable either food or calcined. For 4 liters of water, you should measure 1/3 of a packet of soda.
Note that for aluminum pans without a coating, this method will not work.
The resulting mixture is gently stirred and boiled for at least another 30 minutes. If the soot is too strong, you can increase the time by another 10-15 minutes.
Then remove the pot and wash it under running water.
Earlier OBOZREVATEL told about the 5 most effective and safe ways that will help without chemistry to clean burnt pots and pans.
Subscribe to OBOZREVATEL channels in Telegram and Viber to be aware of the latest events.