Trending:
How to clean the powder compartment in the washing machine: effective ways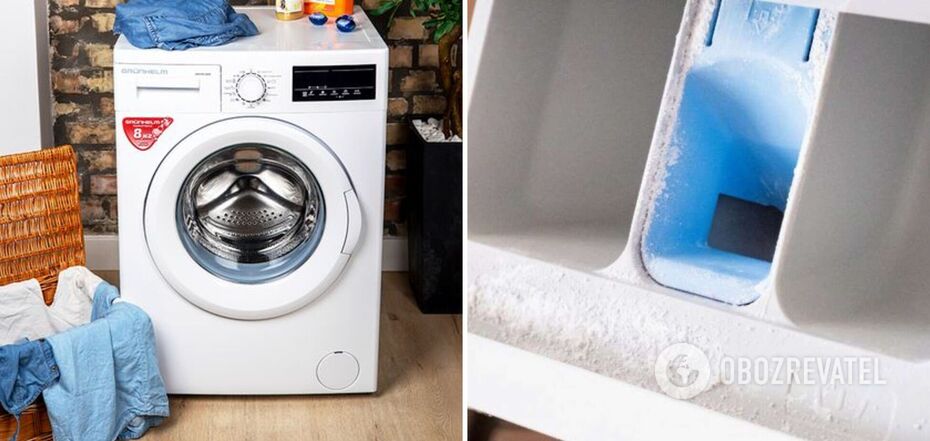 How to clean the powder container
You can face many problems if you do not clean your washing machine regularly. Unpleasant odor from the drum, mold under the rubber seals, contamination of the powder compartment - this is not a complete list of nuances that can lead to serious malfunctions of the washing machine.
Powder residue settles in the detergent compartment, which over time can dry out so much that it will be very difficult to clean them. OBOZREVATEL analyzed why the powder can be poorly washed out and how to quickly and effectively clean it.
How to clean the powder compartment
The compartment should be cleaned at least once every two months before the powder residue becomes too hard. If this happens, soak the compartment in warm water after removing it from the machine. You can rub it with an old toothbrush to be more effective.
Among the main reasons why the compartment gets dirty quickly are weak water pressure and poor quality powder. The worse the powder, the more it sticks to the walls of the container during washing.
Mold and lime scale often appear in the compartments. From persistent soiling will help a few lifehacks.
Add baking soda
Water and baking soda should be mixed in equal proportions. For example, ½ cup of water and ½ cup of baking soda. With the solution, thoroughly wash the container and rinse it with warm water.
Vinegar will help
Baking soda plus vinegar is an all-purpose cleanser that will also help get rid of hard deposits in the laundry detergent container.
Pour baking soda and vinegar into the compartment. Do it with gloves, because there will be a strong reaction. After waiting a little, we take a toothbrush and remove the remains of contaminants.
In addition, you can take a container, pour 1 liter of hot water into it and mix with 250 ml of white vinegar. The container should be placed in the solution and left to soak for at least 6 hours. Then remove the dirt that has not washed away on its own, using a sponge or toothbrush.
Lifehack with citric acid
Pour 2-3 tablespoons of citric acid into the powder compartment and start the wash cycle without any items inside. The optimum water temperature is 60 °C.
The acid will clean not only the compartment but also the washing machine drum.
Earlier OBOZREVATEL told how to properly wash a blanket in the machine, so as not to spoil it.
Subscribe to OBOZREVATEL channels in Telegram and Viber to keep up to date.