Trending:
How to clean silver at home: two surefire ways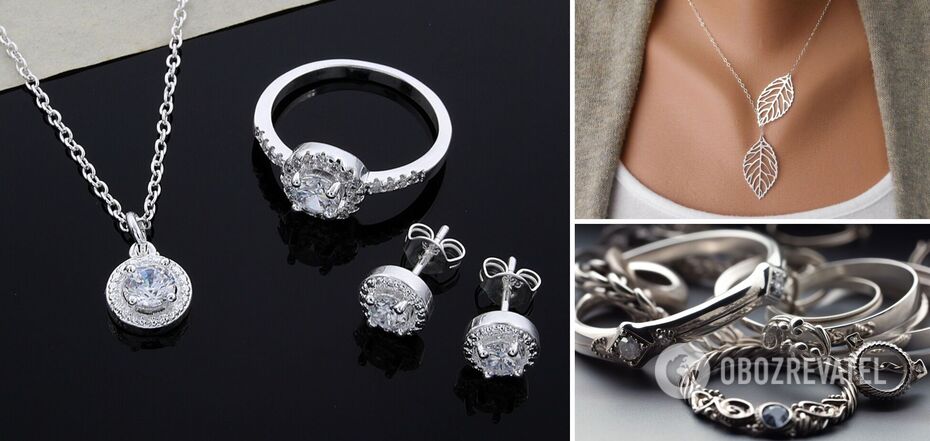 Silver jewelry
Silver is a universal metal, the only disadvantage of which is its rapid loss of brightness. Silver is used in tableware and jewelry, but even new jewelry begins to fade after a few months. The reason is not the quality at all - it is just that the metal undergoes oxidation during wear, which leads to a change in color.
To keep your jewelry in perfect condition, it is important to take regular care: cleaning and polishing. How to clean silver at home, told the publication House Beautiful.
From toothpaste to Coca-Cola, there are plenty of silver cleaning tips online. Below are proven remedies that can effectively clean surfaces and provide a radiant shine.
Aluminum foil
This method will work for cutlery and other small items that can be easily placed in the pan. The aluminum foil will condition the chemical reaction, and the sulfur (the cause of tarnish) will literally "pull" out of the silver during soaking.
Step 1: Prepare the container
Line the chosen container with aluminum foil and sprinkle it with a generous layer of baking soda.
Step 2. Place the silver
Carefully place each silver piece on the foil.
Step 3. Leak stage
Pour hot water into the container until the silver is completely submerged in it. Leave to soak until the water cools completely, then carefully remove the silver and wipe each piece with a clean cloth.
Baking soda scrub
An alternative option is baking soda. This method is as effective as the aluminum reaction.
Mix baking soda and warm water in the ratio of 2:1 and mix thoroughly to form a paste-like consistency - it should be thick enough not to spread.
Using a cloth or toothbrush, rub the mixture into the silverware. Place the silver in a cool, dry place and wait 5-10 minutes for the mixture to work. If the silver is too dull, more time will be needed.
Rinse the silver choice under cool water and polish with a clean, dry cloth.
Earlier OBOZREVATEL told that even quite strange ingredients will help to clean silver: potato flour and the white of a chicken egg.
Subscribe to OBOZREVATEL channels in Telegram, Viber and Threads to be aware of the latest events