Trending:
How to clean silicone molds after baking: grease and unpleasant odor will disappear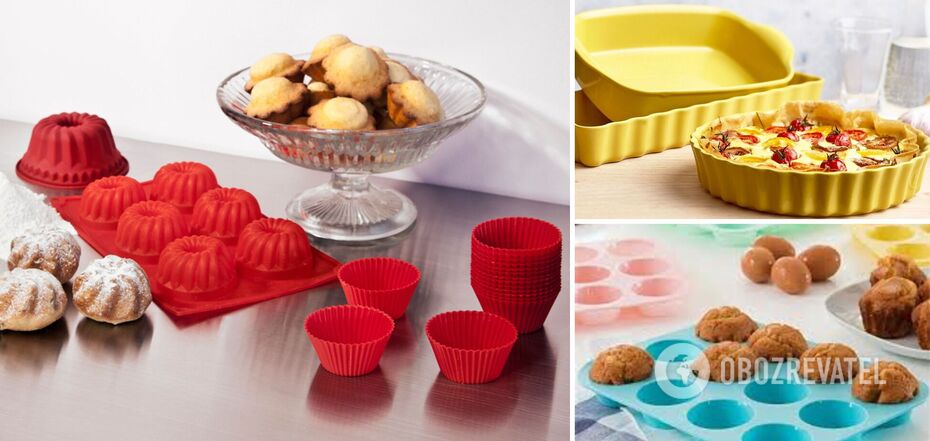 How to clean silicone molds after baking
Silicone containers are indispensable for baking. They do not burn, do not emit toxic substances at high temperatures, are compact and multifunctional. Cookware made of soft polymer is elastic, but is characterized by strength and durability.
Silicone containers should be washed after each use. OBOZREVATEL has collected the best tips that will help to get rid of outdated grease and unpleasant odor on molds for baking.
What should not be done when washing silicone molds
First and foremost, you should give the containers time to cool down. Do not drop hot baking molds into cold water.
Do not use stiff brushes or abrasive cleaning products as they can damage the product.
Do not scrape the molds with a knife or rub with a metal brush. This will damage the product.
Aggressive chemicals are not suitable for washing silicone molds. The porous and soft structure of the product will quickly absorb toxic substances.
How to clean and disinfect baking molds
Citric acid
Citric acid will get rid of burnt dough and soot. Pour 3 liters of hot water into a container and add 1 tablespoon of acid. Soak the silicone molds in the solution for 20 minutes.
To get rid of the unpleasant smell, you can simply rub the molds with lemon, leave for a couple of minutes and rinse with water.
Mustard
Mustard will not only wash away dirt but also help to get rid of bad odor. Mix mustard powder with detergent until a homogeneous mixture is formed, apply to silicone molds and leave for 15 minutes. After soaking, wash the product with a sponge and rinse thoroughly under running water.
Soda and vinegar
For 2 cups of water, take 2 tablespoons of baking soda and one spoon of vinegar. For this remedy, long soaking is not required, it is enough to place the molds in the mixture for a minute and gently rub the dirty places with a sponge.
Soda and soap solution
In a pot with 2 liters of water, experts advise putting about 40 g of laundry soap and 2 tablespoons of soda ash. It is not necessary to grind the soap on a grater, it will dissolve under the influence of high temperatures. Boil the molds in the solution for 15-20 minutes, cool and wipe with a sponge.
Can the molds be washed in the dishwasher?
Silicone molds react neutrally to heat. The material can withstand the high temperature of the oven, so it will definitely not spoil from boiling water.
Usually products can be washed in a dishwasher, unless otherwise stated on the label. Almost any mode is suitable for them.
Earlier OBOZREVATEL shared seven types of knives that should be in the kitchen.
Subscribe to the channels OBOZREVATEL in Telegram , Viber and Threads to be aware of the latest events.