Trending:
How to clean old stains on the couch: a simple tiphack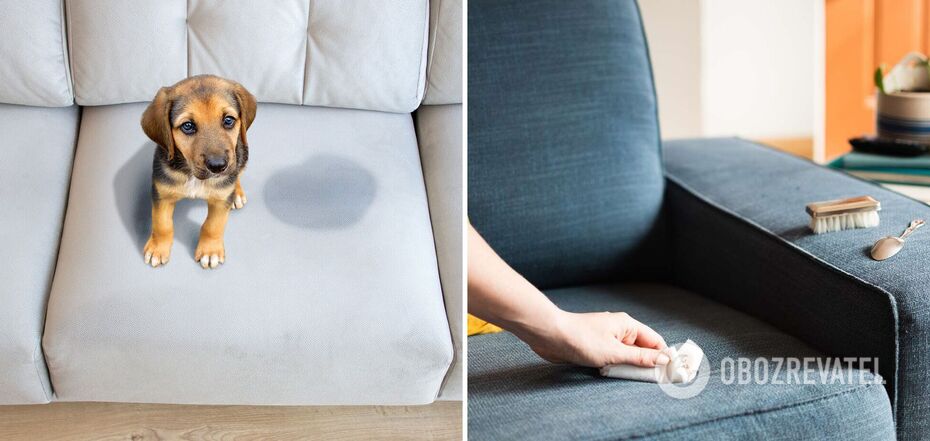 An aqueous solution of baking soda and dishwashing liquid will help wash away the stain.
Upholstered sofas collect stains just as well as clothes. Parents of small children and owners of pets know this particularly well. In addition, it can be stains from food and drinks, because who does not like to eat on the couch. But throwing the upholstery in the washing machine at any time is not possible - you will have to clean the furniture with a special agent. Fortunately, you can make your own detergents and they will work quickly and effectively.
OBOZREVATEL found out about the recipe of the mixture. And tells how to use it correctly to get the best results.
To prepare the remedy you will need only three simple ingredients:
water - 1 liter;
baking soda - 2 tablespoons;
dishwashing detergent - 2 tablespoons.
It is best to choose a clear, colorless dish detergent to prepare the mixture, it will not leave traces of dye on the fabric. All the ingredients are thoroughly mixed until the baking soda is completely dissolved and foamy.
Before application, it is better to try the resulting liquid on an inconspicuous area of the sofa. Usually it does not leave traces during use. If all is well, the mixture is gently applied to the stain, avoiding the strong moistening of the upholstery, and leave it for 15-20 minutes. After that, the soiled area is treated with a brush from the edges to the center.
Strongly rub the stain should not be. If the stain is persistent or old, it is better to repeat the treatment several times. As a result, the stain should come off under the influence of this mixture.
But it is still better to remove stains immediately after they appear. Then you will need to blot the soiled area with a cloth or paper towel, avoiding friction so as not to rub the pollutant into the fibers, and then treat the upholstery with the above mixture. The sooner you apply it, the easier and more completely the stain will be removed.
Previously OBOZREVATEL told you what to rub on the windows for perfect transparency and cleanliness.
Subscribe to OBOZREVATEL channels on Telegram and Viber to keep up with the latest news.