Trending:
How to clean mushrooms properly: secrets that not everyone knows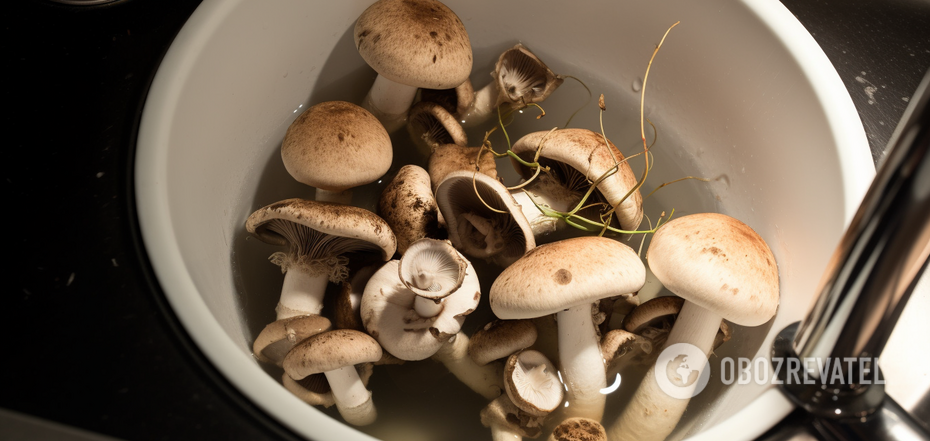 Properly cleaned mushrooms taste better
Experienced mushroomers claim that one of the main secrets of cooking this product is its proper cleaning. It not only removes but also unpalatable parts, preserving the characteristic flavor notes.
OBOZREVATEL learned how to clean mushrooms properly and shares lifehacks which will be useful for individual species.
General tips on how to clean mushrooms
Do not soak for a long time. The porous structure of the mushroom absorbs too much water and they become unpalatable. If the harvested crop is not wormy, it will be enough to rinse it with running water and then dip it in paper towels.
Trim off the tip of the stem. If you store mushrooms in the refrigerator, the longer they lie in their chamber, the more of the stem will have to be removed.
Do not pay attention to the ring. The opinion that it must necessarily be removed is nothing more than a myth. But you can still do it.
Peel the large caps from the film. Pick it up from the edge and carefully remove it to the center. This film is very thin and almost not perceptible in small mushrooms, so don't waste time and effort on it.
The brown plate under the cap is better left. It is this part of the mushroom that is responsible for its characteristic flavor.
How to clean certain types of mushrooms
White mushroom. Gently rub the cap with a stiff brush and rinse the mushroom under a stream of water.
Champignons. If possible, avoid contact with this species with water, as champignons absorb it very strongly. It is better to remove the film in large caps.
Slippery Jack. The caps of these mushrooms need to be peeled from the film. This will be easier to do if you dip them in boiling water.
Chanterelles. It is enough to rinse under running water to wash off the remains of leaves, needles and other debris.
Milky cap. These mushrooms need to be soaked. Leave them in cold water for a day, then clean them with a knife to white color.
Boletus and orange-cap boletus. These two species are divided into stem and cap, then each part is cleaned separately. Remove the skin from the stem and wash the tops under running water.
Earlier OBOZREVATEL shared how to cook forest mushrooms correctly.
Subscribe to OBOZREVATEL channels in Telegram and Viber to be aware of the latest events.