Trending:
How to clean kitchen wallpaper from grease and dirt: an ingenious way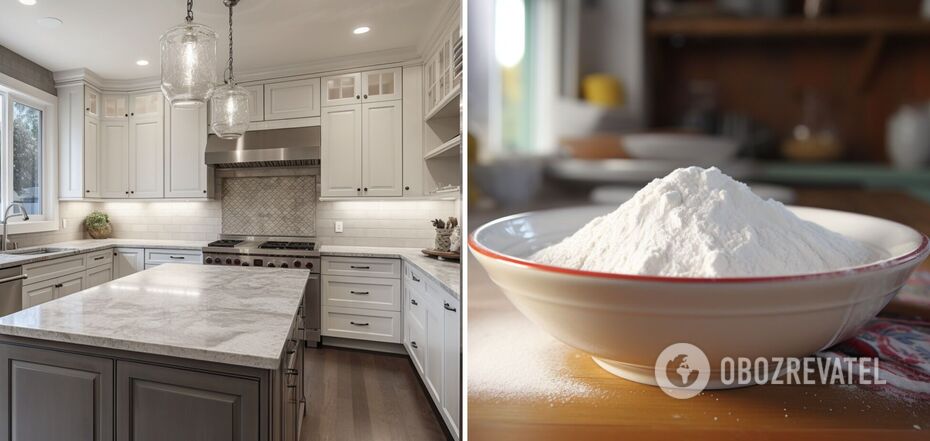 Baking soda will help clean kitchen wallpaper
Stains on the walls do not appear as often as on the floor. But they are also more difficult to deal with, especially if the walls are decorated with wallpaper. Even materials specially designed for cleaning do not always withstand strong moisture and friction.
That's why OBOZREVATEL decided to ask for life hacks on how to wipe off grease, dust, fingerprints, and other contaminants from this type of coating. This is especially true for the kitchen, where the walls get dirty the fastest. One inexpensive and affordable product - baking soda - will help with this.
Baking soda paste for deep cleaning
The best way to clean wallpaper with baking soda is to make a paste with it. Take a teaspoon of water for a tablespoon of the product and mix everything until smooth. Apply the resulting substance to the wallpaper with a soft cloth or sponge, dipping it into the paste. Gently treat the contaminated area with the product, and then leave it to act for 5-10 minutes. After that, the remaining baking soda should be carefully wiped off, avoiding waterlogging the wallpaper.
If the method does not work, it is better to repeat the cleaning several times. Adding more water or intense friction can damage this type of wall covering.
Soda solution for routine cleaning
You can use a soda solution to clean walls with wallpaper to give them a routine cleaning. To prepare this solution, dissolve two tablespoons of powder in five liters of water. It is best to use a microfiber cloth. Dip it in the solution and wring it out well so that it is slightly moistened, and then wipe the wall with it. This will freshen up the coating, remove odors, and clean up dust.
Safety test
Even a mild cleaner like baking soda needs to be tested for safety for wallpaper. Especially when it comes to decorative types of this finish. Therefore, apply the paste or solution to a small area in an inconspicuous place before use. Do it exactly the way you plan to clean the wall. If this has no effect on the wallpaper, you can safely use baking soda. But once again, avoid strong friction, as it can easily damage even a resistant coating.
Earlier, OBOZREVATEL talked about a recipe for a home remedy for dust that will really slow down its settling.
Subscribe to OBOZREVATEL 's Telegram and Viber channels to keep up with the latest developments.