Trending:
How to clean kitchen cabinets from grease: simple tips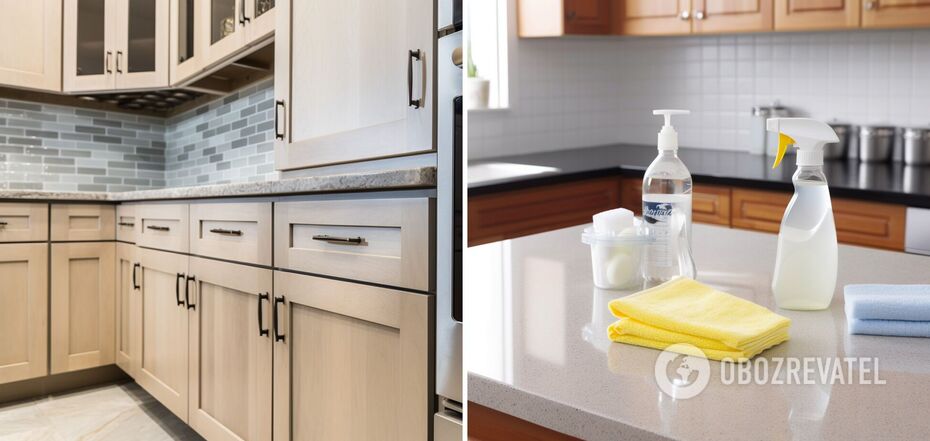 Kitchen cabinet fronts collect a lot of dirt
No matter how hard you try to cook with the hood on, the fronts of your kitchen cabinets will still take on some of the splashes, grease and dirt. And from constant use, they become covered with greasy handprints. Therefore, the facades need to be cleaned periodically.
OBOZREVATEL has collected the most effective life hacks that will help keep your kitchen cabinets clean. They will not require much effort and sophisticated products.
What is the best way to clean kitchen facades
Advertising convinces us that there is nothing better than factory-made detergents in home care. Yes, they dissolve dirt well, but they need to be thoroughly rinsed off so as not to leave stains and marks.
However, the tandem of baking soda and white vinegar will work just as well, and there will be much less hassle in removing it after use. In addition, these are environmentally friendly products that can be used even in a home with small children and pets.
How to remove handprints
Kitchen cabinets get dirty most of all due to contact with hands. Just a day of moderate use in this way can leave a lot of stains. It doesn't matter whether the front is glossy or matte, light or dark - it will take it all.
An ordinary potato will help to remove these marks. Take one root vegetable, wash it from the ground and cut a slice. Use this slice to wipe the facade stained with your fingers and leave the potato juice to act for a few minutes. After that, wipe the surface with a damp cloth and dry it with a paper towel.
Quick care spray
If you want to have a quick cleaner on hand that can be used to quickly treat your kitchen facades, even on a daily basis, prepare a vinegar-based spray. In a spray bottle, mix white vinegar and water in equal parts and shake the bottle well. Spray the product on the lockers and then wipe them with a damp microfibre cloth. This will help to avoid stubborn stains and easily remove everyday dirt.
If you don't like the smell of vinegar, you can replace it with citric acid. Dissolve one sachet in 0.5 litres of water and pour the solution into a spray bottle. Acidified water will remove grease and other contaminants from facades well.
Earlier, OBOZREVATEL told how to properly organise things in the kitchen to keep it tidy.
Subscribe to OBOZREVATEL's Telegram, Viber and Threads channels to keep up with the latest developments.