Trending:
How to clean grease on silicone baking pans: instructions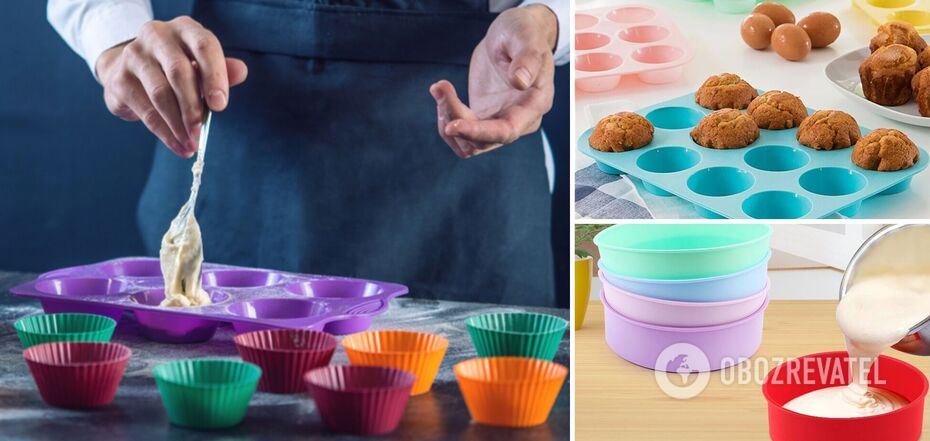 Top tips for cleaning silicone baking molds
Silicone baking molds help you make delicious muffins, cupcakes, and cupcakes quickly. They are cheap and easy to use, but washing them is often a problem.
You have to put a lot of effort into cleaning up the baked-on dirt. How to effectively clean silicone forms for baking and cooking brushes, dealt with OBOZREVATEL.
Water and detergent can not always cope with such dirt. Burnt dough under the influence of high temperatures sticks to the surfaces, and silicone forms do not look very aesthetically pleasing. You can, of course, throw away the molds and brushes, but experienced cooks, rather save money and scrub the dirt with proven methods.
First of all, you should use a mixture of water and baking soda. Empty silicone forms are heated in the oven for 10 minutes at a temperature no higher than 180 ° C. Then you should rinse them with water and carefully apply the baking soda mixture. It is better to do it with a toothbrush. After waiting for the mixture to dry, rinse the molds under a stream of warm water.
By the way, hard water can cause a white deposit on the silicone. White vinegar is used to remove it. Take 10% vinegar and soak the molds in it for about half an hour. Then rinse thoroughly under warm water and dry.
Vinegar has a pungent smell, so you can use citric acid or lemon juice. Similar to the previous method, soak silicone molds for 30 minutes and wash.
According to experts, heavy stains from old grease and dirt will remove oxygen powder. It is a universal and harmless tool. You just need to wash the silicone molds in the powder solution, rinse them thoroughly and dry them. Baking molds will be as good as new.
Previously OBOZREVATEL told you how to wash the old grease on glass dishes.
Subscribe to channels OBOZREVATEL in Telegram and Viber to keep up with the latest developments.