Trending:
How to clean glass shower doors to shine: simple life hacks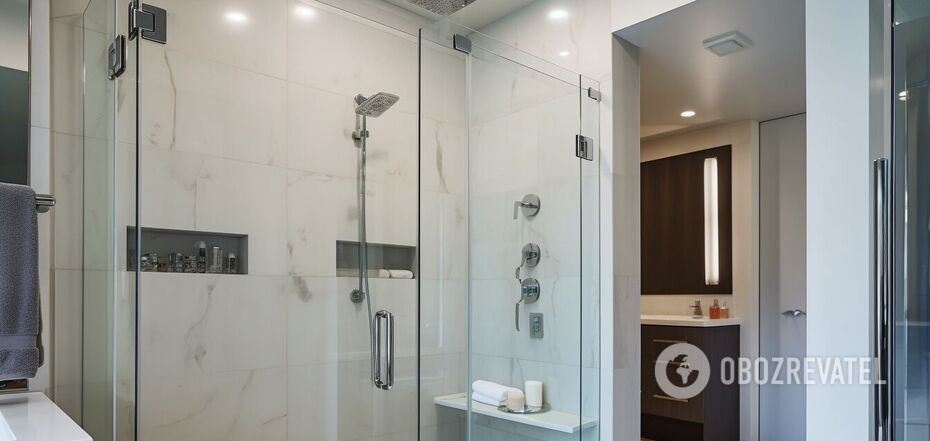 How to clean glass doors in the shower
Housewives think that the most difficult task when cleaning the bathroom is washing the glass shower door. They often get stained with soap scum and limescale, which can be difficult to remove.
You don't need to buy chemicals to quickly clean the shower door, you can make your own solution from natural ingredients to avoid bleach, chlorine and ammonia. OBOZREVATEL has found effective tips to help you do this.
A mixture for cleaning glass doors that effectively removes stubborn dirt and restores shine can be made from vinegar. Mix vinegar and water in a one-to-one ratio and you can add a few drops of essential oil to eliminate the pungent smell of vinegar.
Pour the mixture into a spray bottle, apply it to the desired areas and wait 15 minutes. But avoid rubber seals between doors and natural stones, as the solution can damage them.
Then use a cloth or sponge to wipe the glass thoroughly to remove all stains and dirt. Dampen the cloth with water and wipe all surfaces again. Use dry cloths or a towel to wipe the door dry and it will shine again.
A mixture of baking soda and vinegar can also help remove stubborn stains. Mix the ingredients to form a thick paste and apply it to the desired areas. This mixture will cope with difficult stains.
It is best to wipe the shower enclosure after each bath. This will help avoid the appearance of new stains and limescale.
Earlier, OBOZREVATEL published the perfect cleaning product that will help you effectively clean the toilet and get rid of all germs.
Subscribe to OBOZREVATEL's Telegram, Viber and Threads channels to keep up with the latest developments.