Trending:
How to clean a stainless steel sink to a perfect shine: instructions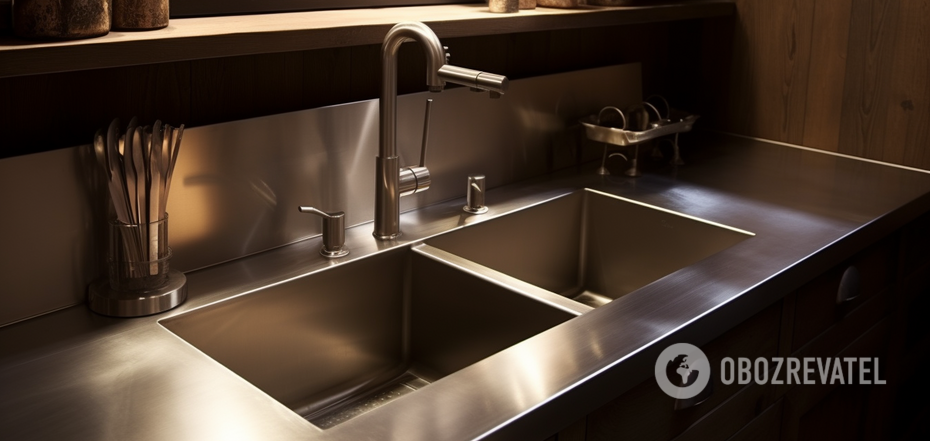 How to clean a stainless steel sink
Over time, a stainless steel sink loses its shine, and if you don't wash it regularly, limescale and even rust appear on the surface. The longer you ignore the problem, the denser and coarser the limescale build-up will become.
Don't leave puddles around the sink and make it a habit to wipe down the surface every time you use it. Tom's Guide has shared some of the best ways to clean a stainless steel sink.
How to clean a stainless steel sink
Preparation stage
Rinse the sink quickly with running water to remove surface stains and grease. Remove any food debris from the holes.
Soap solution
Apply a few drops of dishwashing detergent and a non-abrasive sponge to prewash the sink. Be sure to treat all surfaces, including the walls, hidden crevices, and the opening around the stopper. Don't forget to rinse the faucet. Then rinse off the soapy water.
Life hack with baking soda
Act quickly - while the sink is still wet, sprinkle baking soda generously on all surfaces. Baking soda is a great cleaner because it breaks down dirt and grease and can scrape off old stains, but it's not so abrasive that it will damage stainless steel.
Homemade scrub
Moisten a soft sponge with water and wipe the surfaces. The baking soda will combine with the remaining water to form a thick paste. Continue scrubbing until the paste covers the entire sink. Take your time rinsing it off.
Disinfect with vinegar
Vinegar will provide high-quality disinfection. Spray a little on top of the baking soda. A chemical reaction will occur, during which even the most difficult stains will dissolve. Vinegar will quickly and effectively remove limescale. Wait until the solution stops fizzing and rinse off the rest of the mixture.
An alternative to vinegar
If you don't have vinegar on hand, lemons are a viable alternative. Simply cut one lemon in half and rub it over the baking soda. Just like vinegar, lemon juice is useful for removing limescale, and it has a wonderful fresh flavor.
Another recipe
When using store-bought cleaning products, make sure they are suitable for stainless steel - some aggressive products and abrasive powders can damage the surface.
The web also suggests trying to prepare a solution of tartar and white vinegar. Tartar (potassium hydrogen tartrate) is the potassium salt of tartaric acid, an organic compound formed during fermentation. Combine ¼ cup of tartar with a cup of distilled white vinegar. A paste will form that can be applied directly to any stubborn stains. Wipe gently with a sponge, leave on for a few minutes, rinse off the solution and repeat the process if necessary.
Polishing the sink
After removing all stains, wipe the sink thoroughly with a microfiber cloth. This is an important step, as any residual water will form new limescale deposits and negate all efforts.
Finally, apply a few drops of olive oil to a microfiber cloth, wipe the stainless steel and remove any excess moisture.
Earlier, OBOZREVATEL told you how to remove stains on the grout between tiles.
Subscribe to OBOZREVATEL 'sTelegram and Viber channels to keep up with the latest developments.