Trending:
How to clean a frying pan lid from grease: the easiest ways to do it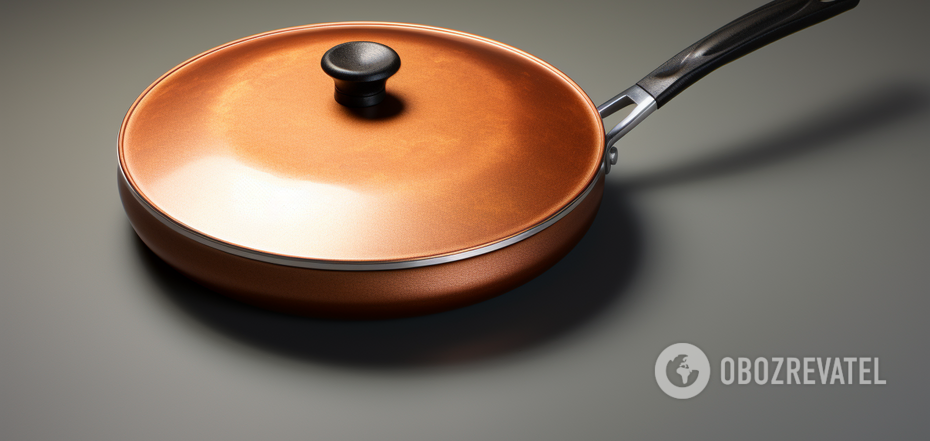 How to clean a frying pan lid
Removing stickiness from the pan lid is not an easy task. Dirt, grease and food residue penetrate into hard-to-reach places, and even expensive products can't clean them.
OBOZREVATEL has picked up the most effective and simple flyhacks, which will help to clean the lid of the frying pan from grease. You won't have to spend money - you'll need improvised ingredients.
Method 1
Hydrogen peroxide can help to remove grease and burnt residue from glassware.
Step 1: Apply hydrogen peroxide to the lid, paying special attention to the areas under the rim.
Step 2. Leave the product for 20 minutes to allow the active ingredients to work.
Step 3. Take an old toothbrush and scrub the surface. Afterwards, rinse the lid thoroughly with detergent and water.
Method 2
Baking soda is an all-purpose cleaner and disinfectant for cleaning and sanitizing surfaces.
Step 1. Spread the baking soda all over the lid and leave it on for 10-15 minutes.
Step 2. Take a sponge or brush. Using a circular motion, clean the lid. The abrasive particles will quickly remove even the most stubborn dirt.
Step 3: Rinse the lid thoroughly under running water.
You can pre-disassemble the lid of the skillet - in most models, the rim and handle are removed quite easily.
By the way, sour apple juice will help remove soot from the skillet. Cut the apple in half, pierce the pulp with a knife. After cleaning the dishes with half of the fruit. About these and other household flyhacks for cleaning fouling on the frying pan - read in the material.
Also OBOZREVATEL published 5 simple and effective ways, how to clean pans from the fumes.
Subscribe to OBOZREVATEL channels in Telegram and Viber to be aware of the latest events.