Trending:
How to brush your dog's teeth: safe ways to do it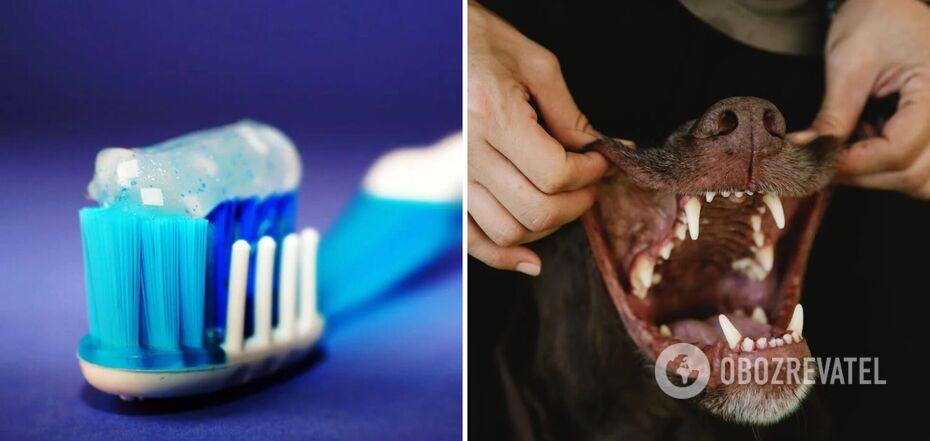 It is necessary to follow the dental hygiene of the dog to avoid diseases
Most owners don't brush their pets' teeth, but it's worth it to do it every day. That's because dental disease is very common in dogs.
Poor oral hygiene can lead to kidney, liver and heart disease. OBOZREVATEL has collected tips to help you deal with this.
Cavities, inflammation and infections cause a lot of pain for your dog. Brushing is a great preventative measure to prevent plaque buildup.
According to surveys conducted by Ipsos Canada, only 7% of owners brush their dog's teeth daily. Even once a week is enough to keep your pet healthy.
To brush your four-legged dog's teeth you will need a dog toothbrush and a special toothpaste (don't use human toothpaste, it contains toxic ingredients for dogs). It's best to start brushing your dog's teeth from childhood, so the animal will get used to the daily ritual.
But if you have an adult dog, you need to accustom him to this procedure. Gently pull away his lips and gradually start brushing, the main thing is not to frighten the dog.
Brush the teeth on the outside first, and when the dog is relaxed, move on to the corner teeth. Once the dog is used to it, focus on the proper brushing technique. You need to do it in circular motions without applying a lot of force. The whole procedure should take about 30 seconds.
If it is hard for you to do it, then add tooth powder to the food. It will soften plaque and calculus, it will at least a little improve oral hygiene.
There are also special dental chews for dogs. They will help avoid disease and freshen your pet's breath.
Earlier OBOZREVATEL told, what breeds of dogs suffer the most from pain.
Subscribe to OBOZREVATEL channels in Telegram and Viber to keep up to date.